There is a new lover in my life. It's my slow cooker. As you well know, I prefer to fuel my body with an assortment of soups, stews, and curries. Especially curries. I was a little nervous to introduce my slow cooker to my lovely curries. Would they get along? Would the flavors be as nuanced? And the texture–would the slow cooker mess it up?
I shouldn't have worried.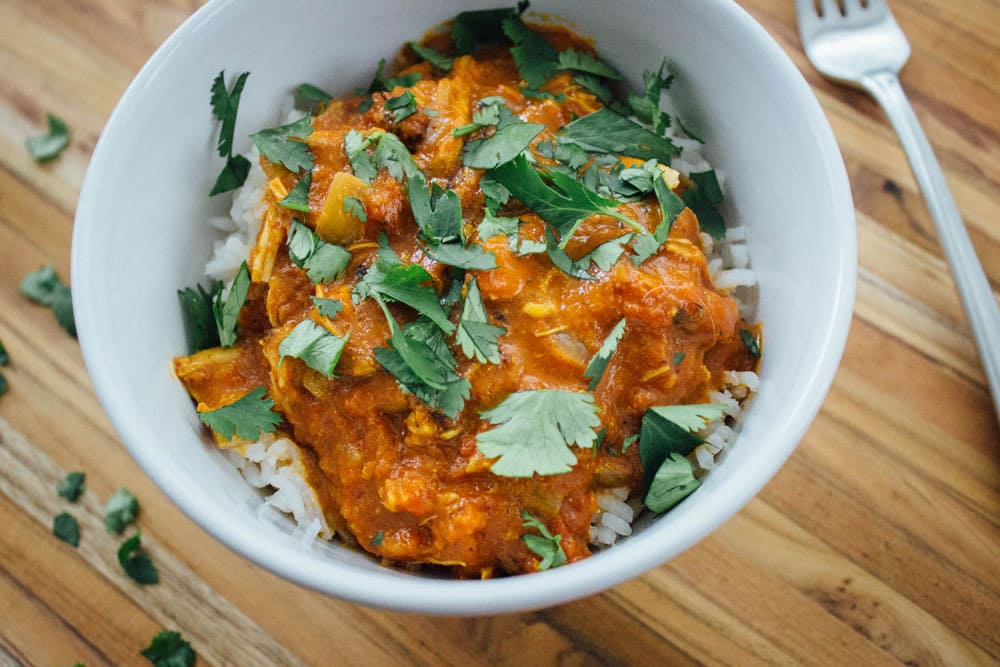 Growing up, curry was a weekly event at my house. I'm pretty sure at this point my dad could make an amazing curry with his eyes closed, one hand tied behind his back, and without even peeking at a recipe. Everything I know about curry, I learned from him. When I started cooking for myself, one of the very first things I mastered was curry. Even now, years later, I get sooooo excited to try new curry recipes.
(Side note: last weekend Myra and I made a smothered lamb curry you're going to freak out about…just as soon as I get the measurements down.)
Anyway: my mom got me this badass, lead-free, Vitaclay slow cooker for christmas this year, and it's been totally knocking my socks off. My favorite thing I've made so far? This mindblowing Chicken Tikka Masala.
Even Blake–who is not a big fan of curry-ish dishes–looooved this and went back for seconds and thirds.
It took me approximately 5 minutes to throw everything into the slow cooker, and 3 hours later: dinner was served. We spooned this over white rice, but cauliflower rice, brown rice, or wild rice would all work.
slow cooker chicken curry
1 pound boneless skinless chicken thighs or breasts, cut into 2" pieces
1 large onion, finely diced
4 cloves garlic, minced
1 1/2 inch knob of ginger (think right around the size of your thumb) peeled and grated
1 carrot, peeled and sliced into discs
1 28oz can diced fire roasted tomatoes, 3 tbsp of liquid drained
2 tbsp tomato paste
1-2 green chili peppers, minced (can use jalapeno or serrano, remove seeds if you are sensitive to spicy foods)
1 1/2 tbsp garam masala
2 tsp paprika (I like to use smoked paprika)
2 tsp sea salt
1 can light coconut milk
1 bunch kale, chopped
1/2 cup chopped cilantro
1 tbsp fresh lemon juice
White, brown, or cauliflower rice, for serving
Sea salt, to taste
Add chicken, onion, garlic, ginger, carrot, tomatoes, tomato paste, chilies, spices, and salt into your slow cooker. Stir well. Cook on high for 3 hours, or on low for 6 hours.
30 minutes before serving, stir in coconut milk and kale. Continue to cook. Depending on how think you like curry, you might want to leave uncovered to cook down for the next 30 minutes.
When the kale is cooked through, stir in the lemon juice and adjust seasonings to taste.
Serve atop the rice of your choosing, sprinkled generously with cilantro.
Traditional garam masala is not spicy, so any heat in the dish will come from the jalapenos or serranos.
Keep in mind that serrano peppers are 5x spicier than jalapenos, so if you are sensitive to spicy foods go for 1 jalapenos, and be sure to remove the seeds.
Chicken thighs will hold up better than chicken breasts over longer cooking times.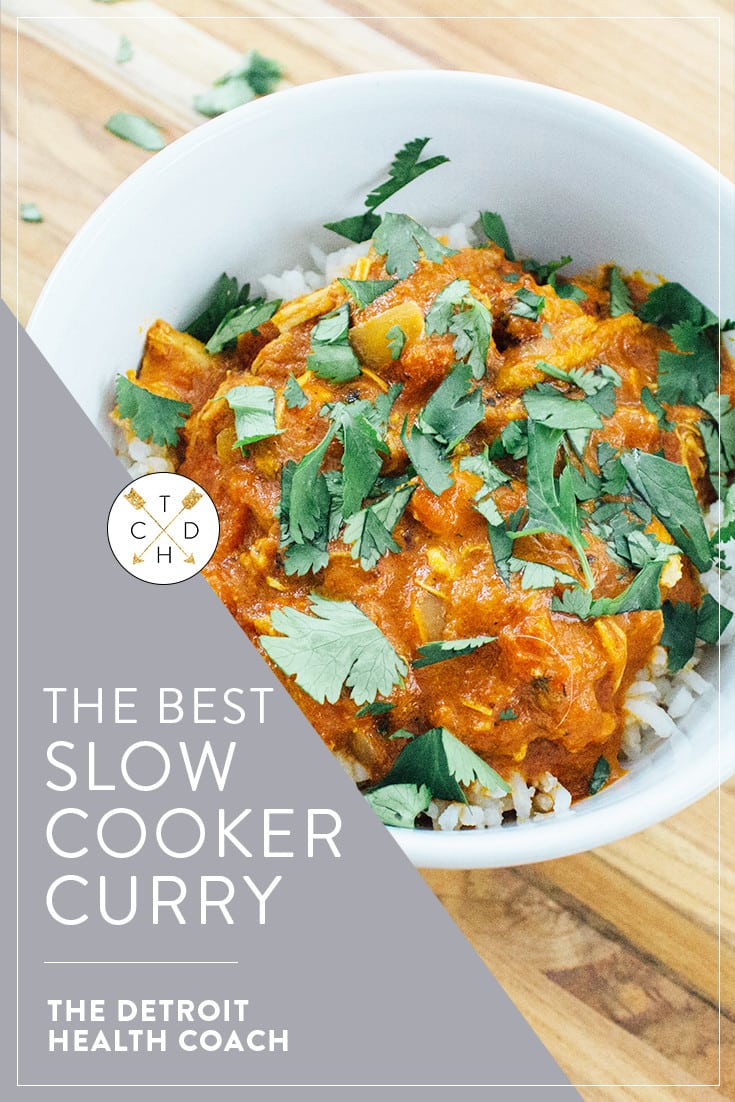 ---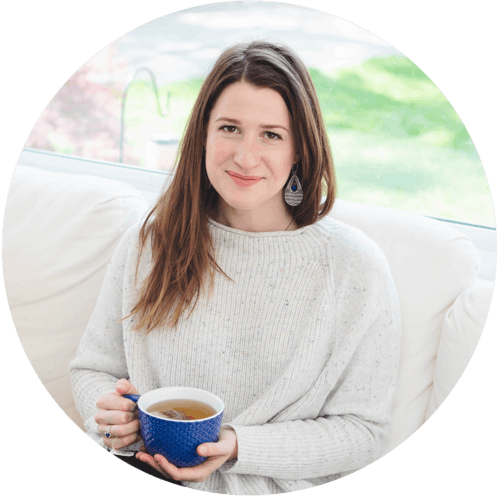 Hi! If we haven't met yet, I'm Marielle, aka The Detroit Health Coach. I'm here to help women just like you live happier and healthier lives. I specialize in weight management, inflammation reduction, and emotional eating. Want to work together? Click here.
I'm powered by tea and passion, and I'm on a ten thousand woman mission to change the world. Let's be friends!