Once upon a time, I went on a mission to create a vegan chocolate truffle that was *actually* truffle-like.
You see, most of the vegan "truffles" out there are no good. They are these sticky date balls with cacao and while that's cool and everything...that is not a truffle. That is not a melt in your mouth morsel of decadence that reminds you of all the good, sweet, soulful things in the world. And my friends, that is exactly what a truffle should do.
So, I set out on a mission to create the best vegan chocolate truffles, and after dozens of failed attempts...I succeeded.
These are a little time consuming--rolling truffles is not a speedy process, and unfortunately there are no shortcuts.
The good news is that the work is divided into two parts: making the ganache and then rolling out the truffles.
I recommend listening to soothing music and sipping something lovely while you roll these. Also: your hands will be covered in chocolate by the end, so use a straw for your sipping.
Let's indulge, my friends.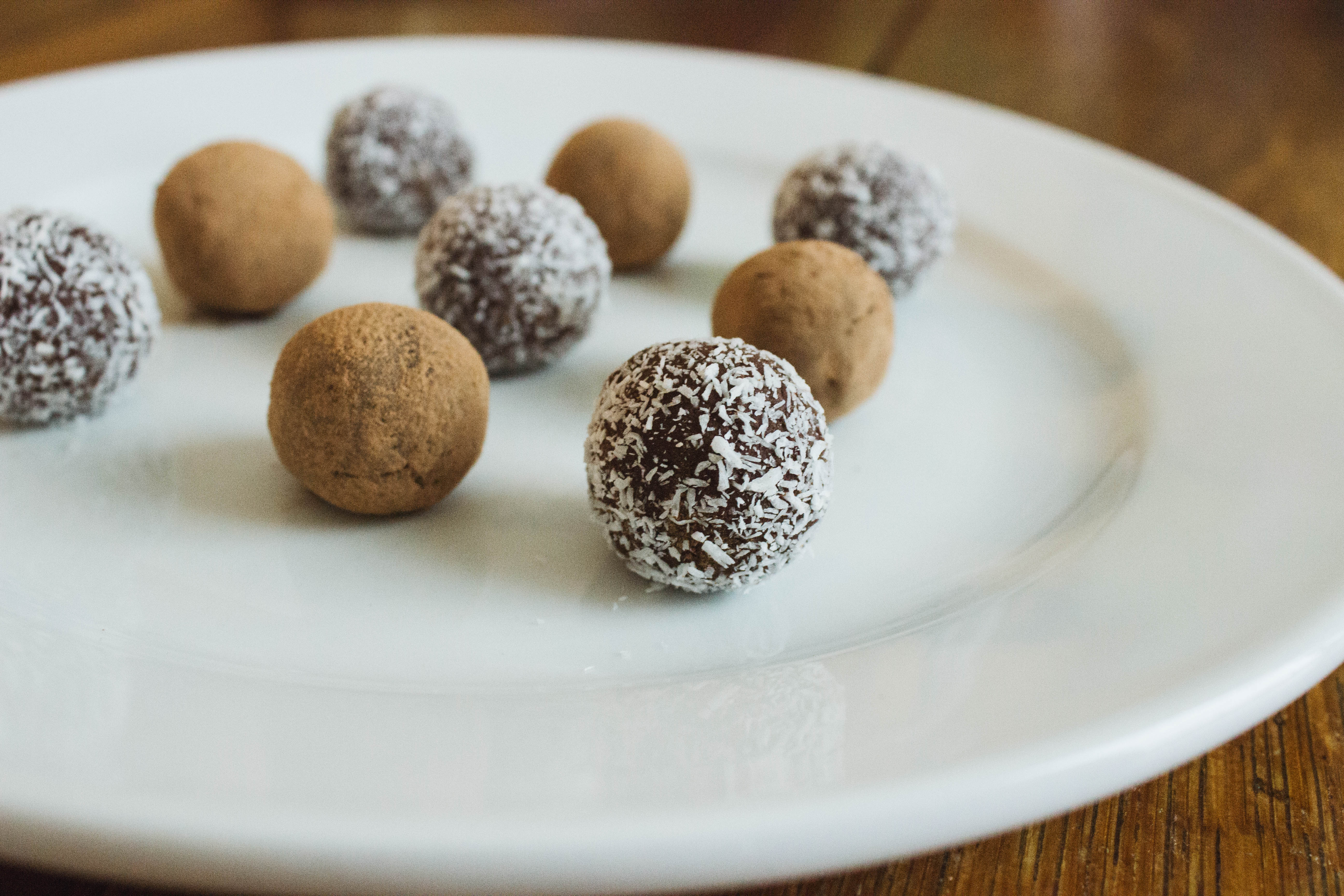 heavenly chocolate truffles
2 cups full-fat coconut milk from a can (I recommend Native Forest brand)
600g high-quality dark chocolate, finely chopped (62%-72% dark chocolate recommended)
4 tbsp coconut oil, melted
1 tsp sea salt
2 tsp high quality vanilla extract
1 tbsp Grand Marnier, orange juice, Chambord, coffee, or Kahlua
First, we make our truffle base, called a ganache. In a small saucepan, bring coconut milk to a simmer. Meanwhile, in a medium-sized bowl combine dark chocolate, sea salt, vanilla extract, and Grand Marnier. Melt the coconut oil in the microwave.
When the coconut milk comes to a simmer, remove from heat, and immediately pour over the chocolate. Pour in the coconut oil, too.
Whisk until the chocolate is totally melted, and everything is well incorporated. Don't skimp on stirring, as it's really important that everything is properly incorporated.
Pour the chocolate ganache into a shallow glass container, and pop into the fridge for at least 4 hours, but preferably overnight.
An hour before you're going to roll out the truffles, remove the ganache from the fridge, and allow to rest at room temperature.
Prepare your truffle rolling space with a bowl of ice water, a parchment lined baking sheet, and a towel slung over your shoulder.
Dip your hands into the ice water to cool down your hands as much as possible. Dry your hands. Use a rounded teaspoon measuring spoon or small melon baller to scoop out balls of the ganache.
Quickly shape into balls using your fingertips. The warmer your hands are, the messier this process will be, so use the ice water to keep your hands cool.
Before serving, roll in cocoa powder, chopped nuts, or shredded coconut.
If you want these truffles to be vegan, you will need to use a vegan chocolate.
There are only 6 ingredients in this recipe, so it's important that you use high quality ingredients.
Your truffles are going to taste a lot like the chocolate you use, so make sure you like the chocolate you pick for this recipe!
The Enjoy Life vegan/soy free dark chocolate mini chips are fantastic in this recipe.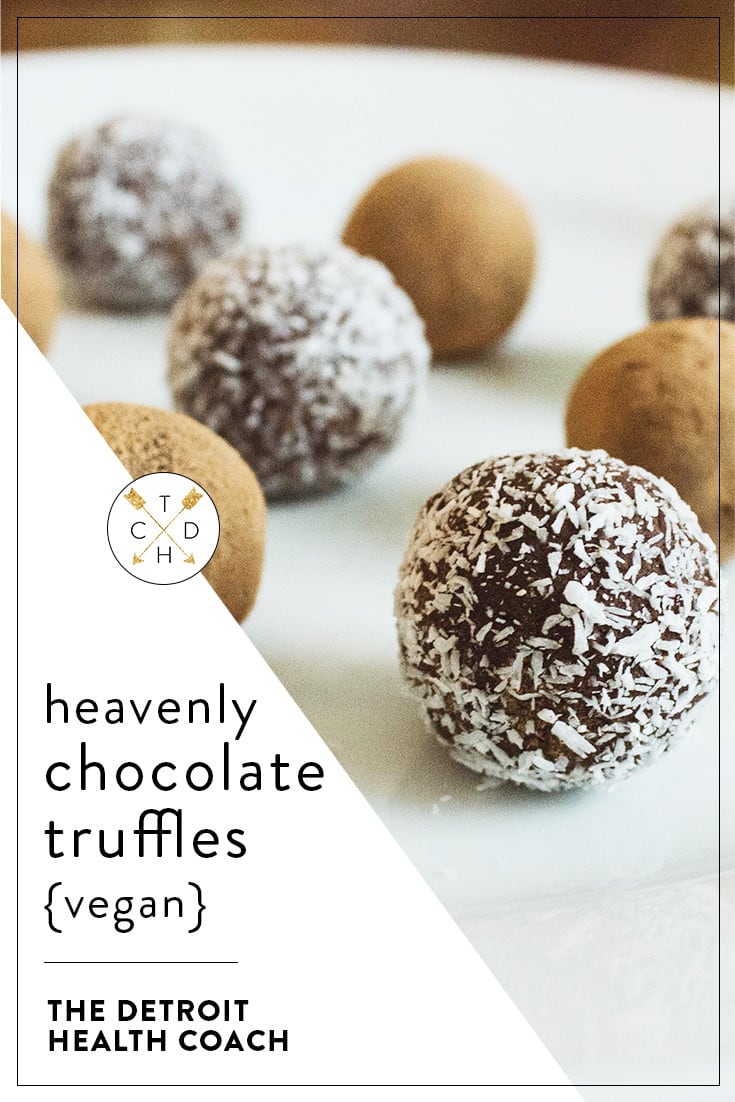 ---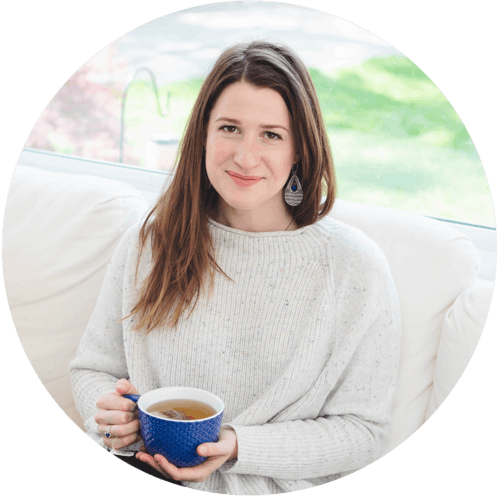 Hi! If we haven't met yet, I'm Marielle, aka The Detroit Health Coach. I'm here to help women just like you live happier and healthier lives. I specialize in weight management, inflammation reduction, and emotional eating. Want to work together? Click here.
I'm powered by tea and passion, and I'm on a ten thousand woman mission to change the world. Let's be friends!