These tarts are delicious, simple, and sure to impress. I love making these in mini tart pans, but you can also make in a large tart pan.
In addition to being totally delish, I've also kept these firmly in the "healthier desserts" category by keeping the added sugar content close to zero.
Makes 4-5 mini tarts, or 1 10" tart
2-3 pears, preferably ripe
a mix of 1 tbsp coconut sugar, 1 tsp cinnamon, 1 tsp ground ginger
1 lemon
3/4 c. almond flour
1/2 c. gluten-free all-purpose flour (I use King Arthur brand)
3/4 c. oats
1/4 c. honey or maple syrup
1 tsp. baking powder
1 tsp salt
5 tbsp coconut oil (not melted)
1 tbsp molasses
1 tsp cinnamon
2 tsp ground ginger
Preheat oven to 350º F for a full-sized tart, or 325º for mini tarts.
Prepare your tart pan/pans by lining the bottom with parchment paper and rubbing coconut oil along the sides. You can make this in a classic tart pan, a 10" springform pan, mini tart pans, or mini springform pans. I like to use mini springforms.
Peel your pears, core, and cut in half. Slice the pears into 1/8" slices, maintaining the "pear" shape.
To make the crust, we will use the food processor. Add the oats, and use 5 second pulses to create a coarse meal. Add the almond flour, gluten-free flour, baking powder, salt, cinnamon, and ground ginger. Pulse 4-5 more times until well combined, and the oats are further broken down. Add the honey, coconut oil, and molasses. Process until mixture forms a large ball.
Remove crust dough, and press into your prepared tart pan/pans. Nestle the pears into the dough, and slightly fan out the pieces. Squeeze lemon juice over the tops of the pears, and sprinkle with the cinnamon/sugar/ ginger mixture.
For a full-sized tart, bake at 350ºF for 30-35 minutes, or until the pears are tender, and the tart crust is golden. For mini tarts, bake at 325º for 25-30 minutes, or until pears are tender and crust is golden. Allow to cool for at least an hour before removing from tart pan. Serve with homemade whipped coconut cream, or if not avoiding dairy, homemade whipped cream.
---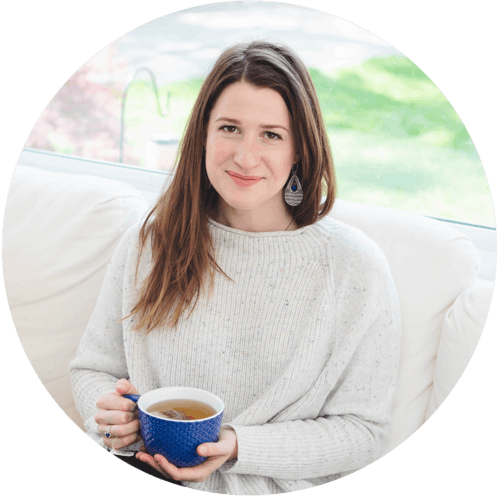 Hi! If we haven't met yet, I'm Marielle, aka The Detroit Health Coach. I'm here to help women just like you live happier and healthier lives. I specialize in weight management, inflammation reduction, and emotional eating. Want to work together? Click here.
I'm powered by tea and passion, and I'm on a ten thousand woman mission to change the world. Let's be friends!