Whenever I want to set myself up for a successful and low-stress week, I meal prep. It makes life so much lovelier! However, meal prepping transitions from optional to necessary when I'm deep in recipe development for upcoming cleanses, events, blogs, etc--which is exactly where I am right now!
Making meals (or meal components) ahead of time is an amazing way to save time, stick to a budget, and support your health goals with the food you eat. I'm consistently asked for budget-friendly, family friendly, and busy-schedule friendly meals, so I kept that in mind while making all this!
In total, this meal prep involved $60, about 4.5 hours, and it made enough food for at least 16 meals.
Here is what is on the menu: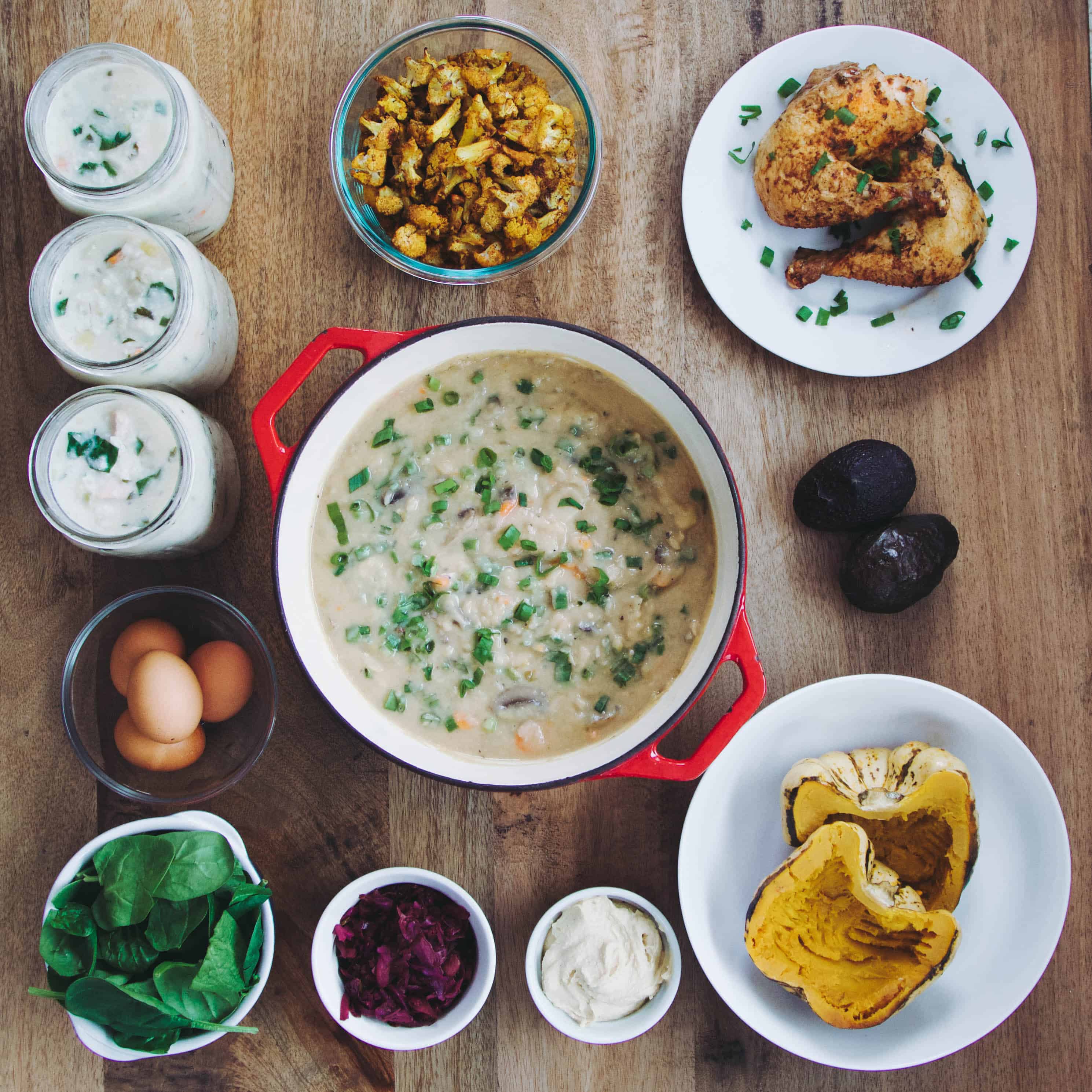 I used the Creamy White Bean Stew recipe from my Complete Recipe Collection and tweaked it a little bit.
Instead of canned white beans, I used what I hand on hand: dried giant, white beans. I used 1.5 cups of dry giant white beans. I simmered them for about three hours a few days prior to using them in the soup. This 1.5 cups of dried beans made about 6 cups of cooked beans. I pureed one cup of cooked beans with a few splashes of water and added that to the soup to make it even creamier. I also upped the simmer time to about an hour. I used a homemade bone broth in this soup.
I made a curry roasted cauliflower because it's one of my favorites!
1 head of cauliflower, broken into florets + 1 tbsp olive oil + 1 tsp sea salt + 1 tsp curry powder + 1 clove minced garlic.
Mix it all together, roast at 425º for 25ish minutes.
Do yourself a favor and stick to simple meals as often as you can. There's a lot to be said for the formula of protein + veggie + fiber + healthy fat. We go for Buddha Bowls many nights that follow this rough formula:
protein: beans, fish, chicken, etc.
carb/fiber base: rice, cauliflower rice, broccoli rice, quinoa
colorful veggie that grows above the ground: kale, spinach, arugula, red cabbage, watercress, broccoli, etc.
healthy fat: salmon, ghee, avocado, walnuts, walnut oil, flax oil
sauce: one of my homemade dressings
We use mashed avocado on toast, in salads, and for Buddha Bowls. Between Mike and I, we go through about 3 avocados a week. If we have a kids weekend, it's more like 5-6 avocados.
Roasted Sweet Dumpling Squash
Preheat oven to 400º. Cut in half. Place cut side down in a roasting pan, and add about a 1/2" of water. Roast until tender, about 40 minutes. Remove from oven, turn over, and allow to cool. Scrape out seeds & threads with a fork. Eat plain with a spoon and some salt, or add to Buddha Bowls.
For dipping veggies. I'll also water down hummus to use as salad dressing or sauce for Buddha Bowls.
Only a little bit pictured, but I made enough for 3 generous servings. Sauté a chopped apple and some chopped green onions in olive oil. Add a bag of shredded red cabbage, salt, and a few glugs of balsamic vinegar. Cooked until the cabbage was tender, about 10 minutes, season with salt and pepper.
I'll chop spinach up and add it to soup, toss it in smoothies, or use in Buddha Bowls.
For snacks, breakfast, and adding to Buddha Bowls.
Slow Cooker Chicken Lemon Rice Soup
This was a last minute decision, but it turned out well.
1 lb chicken thighs + 2 cups yellow onion, diced + 1 cup diced celery + 1 cup diced carrots + 4 cloves garlic + 1 cup arborio rice + 6 cups broth + 1 tsp salt.
Cook in slow cooker on high about 3 hours, until the thighs are done. Chop the chicken thighs, return to slow cooker. Whisk 2 eggs with 1/3 cup lemon juice. Slowly whisk in 2-3 cups of hot broth to the egg/lemon mixture to temper the egg. Add the mixture back to the soup, whisk well.
Add more water/broth as needed to achieve desired consistency. Add 1/2 cup chopped parsley, 1 cup chopped spinach. Season with salt + pepper to taste.
This soup doesn't have enough veggies in it for my taste. It's delish, but a little too beige. I'll be eating this soup with a heaping handful of finely chopped arugula or spinach added in. In the future, I'll definitely add more veggies.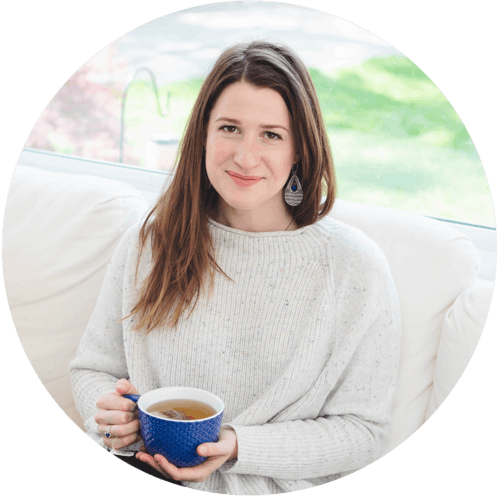 Hi! If we haven't met yet, I'm Marielle, aka The Detroit Health Coach. I'm here to help women just like you live happier and healthier lives. I specialize in weight management, inflammation reduction, and emotional eating. Want to work together? Click here.
I'm powered by tea and passion, and I'm on a ten thousand woman mission to change the world. Let's be friends!