Friends, I made us dinner.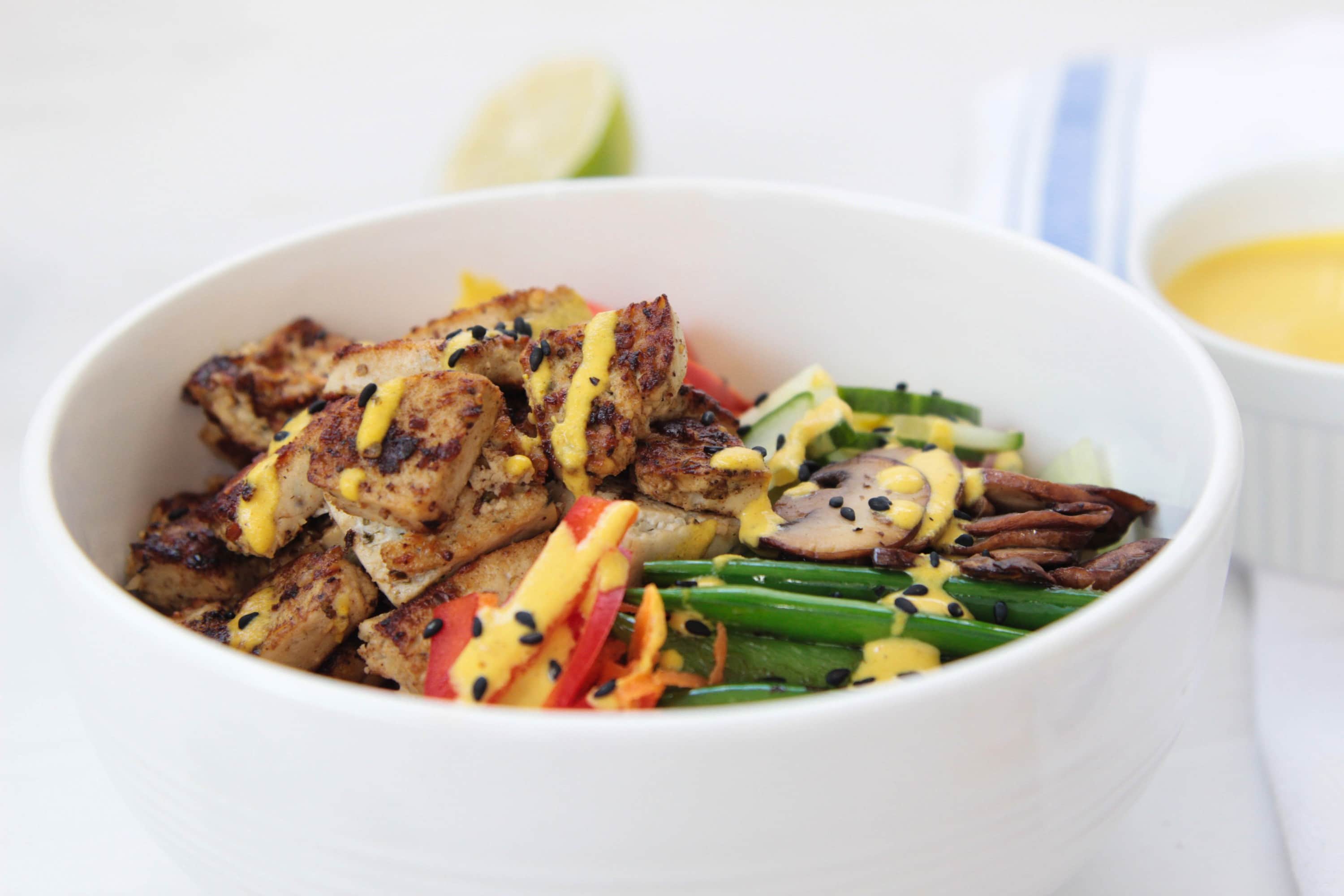 Isn't it pretty?!
Not only are these bowls totally beautiful and delish, they are also all the things:
Gluten Free
Vegan
Soy Free
Filled with the best damn mushrooms you've ever had
Super simple to make
And they have my new favorite ingredient: hempeh. Also called hempfu, if you want to laugh. It's like tempeh, or tofu, but lucky for us it's made from hemp (and it's totally soy free) which means it's right up my alley.
(Soy is a no-fly zone for me. It gives me these giant pimples on my chin that look like they might contain my twin.)
Moving on.
Hempeh/hempfu is:
Packed with protein
Filled with fiber
Rich in anti-inflammatory omega-3 fatty acids
It's your trendy new best friend.
In the making of this recipe I tried two different hemp products: Smiling Hara's soy-free Smoked Salt & Pepper Steak Hempeh and Tempt's Unflavored Hempfu.
I liked them both, for slightly different reasons.
I liked that Smiling Hara's Hempeh was made with super simple ingredients, and I enjoyed the convenience of it being pre-seasoned with salt and pepper. That being said, the sodium content is definitely on the high side though. It did have a great texture that held up well with pan searing. It was super easy to work with. Their hempeh is made with peanuts though, which I know won't work for some of you.
I also really liked Tempt's Hempfu. The hempfu is made with only hemp--no peanut base--which I really loved. And, they call it a hemp tofu but...it's nothing like tofu. The thing I like least about this product is the name. It's misleading! Tempt's Hempfu is a lot more like tempeh. It's not creamy the way tofu is, and you can't work with it the way you can with tofu. It's not sturdy like firm tofu. It's definitely more like tempeh. I really liked that this was unseasoned, because I got to add my own flair with marinades. Texture wise, it is a little crumbly and you do have to be delicate when working with it. My guess is that Smiling Hara used a peanut base to mitigate the crumbliness you get with a hemp-only product.
Overall though? I liked them both a lot, and I've purchased them both numerous times. In this recipe I used the unflavored hempfu/hempeh from Tempt. If using Smiling Hara's pre-seasoned hempeh steaks, just skip the marinating.
Let's get to the recipe! But first, look at this picture: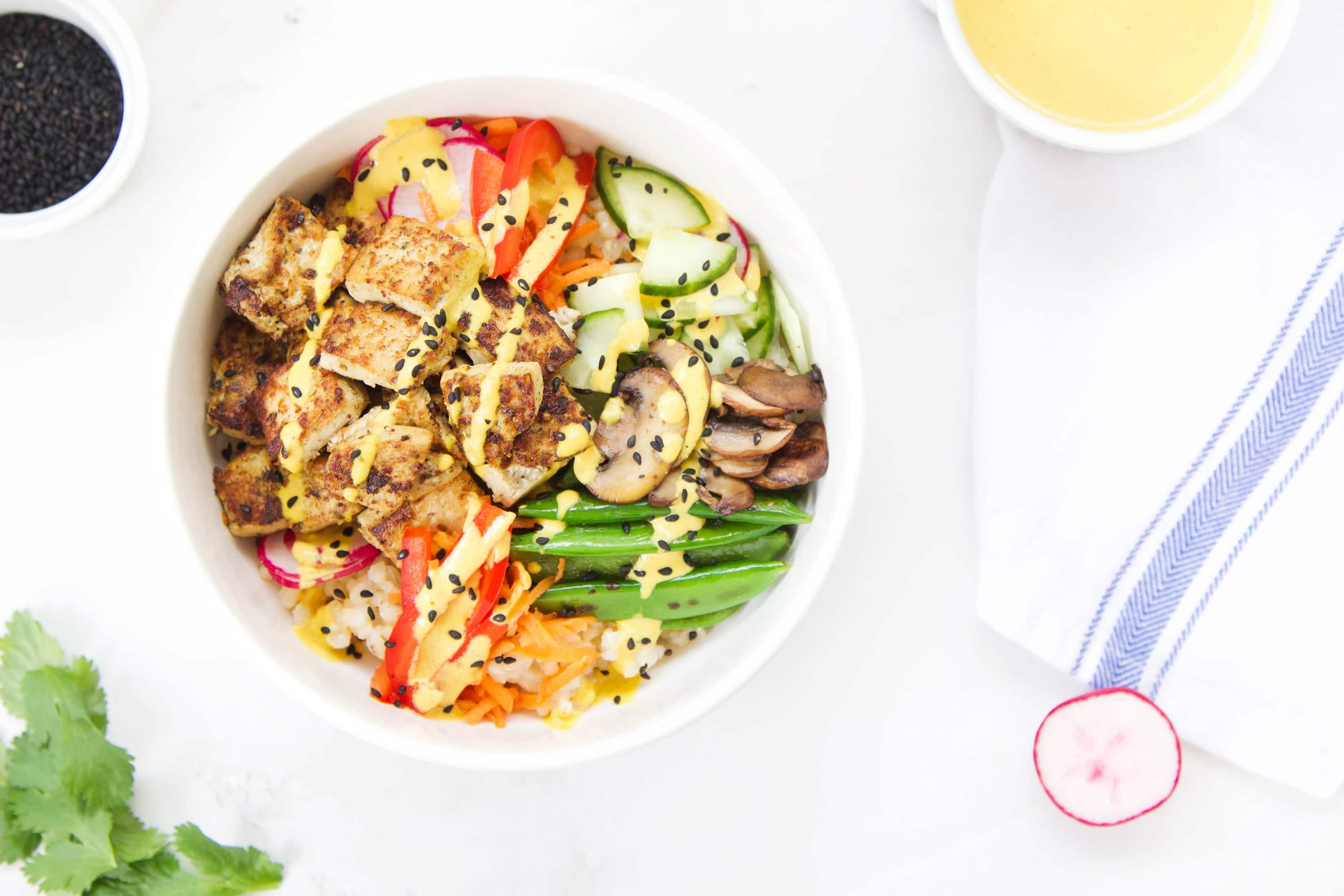 I'm super proud of it.
Okay nooooooow onto the recipe!
Hempeh Bowls with Curried Peanut Sauce
Serves 3 normal people, or 2 very hungry people
1 package hempeh/hempfu, cut into 3/4" pieces
6 oz sugar snap peas
8 oz. crimini or baby bella mushrooms, sliced
2 tsp olive oil
3 tsp toasted sesame oil, divided
2 tsp rice vinegar
Assorted sliced veggies, like baby cucumbers, red bell pepper, and shredded carrots
sesame seeds, for sprinkling
cilantro, for garnish, unless you hate it, then just leave it out
sea salt
1 batch Curried Peanut Sauce, recipe below
white or brown or cauliflower rice, cooked according to how it needs to be cooked
Marinade Ingredients
(If using unflavored hempfu, marinate in a mixture of this goodness for about 20 minutes before searing)
2 tbsp coconut aminos
1 tbsp toasted sesame oil
1/4 tsp ground cayenne
Make your sauce, and refrigerate.
Prep hempeh/hempfu.
Chop and slice veggies.
Cook rice/cauliflower rice.
Heat a large skillet over medium-high heat. Add 3 tsp olive oil. When it shimmers, add the mushrooms and sprinkle with salt. Sauté, stirring occasionally, until mostly cooked, about 4 minutes. Add the rice vinegar. Continue to sauté until vinegar is evaporated. Remove from pan and set aside.
Return pan to heat, and bump it to high. Let your pan get nice and hot! Add 1 tsp of toasted sesame oil. Allow it to get hot. Add the snow peas, and toss to coat. Allow to sizzle for about 45 seconds, and toss again to flip. Sizzle for another 30 seconds. Remove the snap peas from the pan and set aside.

Allow your pan to cool a little bit, and turn the heat back to medium-high. Add the remaining 2 tsp of sesame oil. Add your hempeh/hempfu in a single layer. Sizzle for 1-2 minutes, or until crispy, and then carefully flip. Sizzle on the other side for 1-2 minutes, and then remove from heat. Friends, if you have a non-stick pan, use it for cooking your hempeh/hempfu.

Assemble your bowls! Rice in the bottom, then cooked veg to one side, raw veg to the other, and a mound of hempfu. Sprinkle with some sesame seeds. Garnish with cilantro. Drizzle with some delish sauce. And enjoy.
Curried Peanut Sauce
(With Peanut Free Option)
1/4 c. unsalted peanut butter OR almond butter, sunflower seed butter, tahini
1 clove garlic, chopped
3 tbsp coconut aminos
1 tbsp lime juice
2 tsp curry powder
1 tbsp toasted sesame oil
3 tbsp unflavored, unsweetened non-dairy milk
1 tsp dijon mustard (I know it's weird. Just trust me.)
Sriracha, if you like it spicy
How to Make
Now friends, there are two ways to make this sauce: The Easy Way, and The Less Easy Way. The Less Easy Way has better flavors and the garlic is cooked, and it takes 5 minutes longer and dirties yet another dish. I, personally, recommend the less easy way. I mean you've come this far, right? The easy way is still good though! Do whatever you want. Truly.
THE EASY WAY DIRECTIONS: Combine all ingredients in your blender. Blend until smooth. Add some water if you need to thin it out. Adjust sriracha level to taste.
THE LESS EASY WAY DIRECTIONS: Get a tiny little sauté pan out. Put it on the stove on medium heat. Add the sesame oil and warm it up. Add the garlic. It's about to smell SO GOOD in your kitchen. Stir it a little. Add the curry powder. Mush up the curry powder with the oil and the garlic to make a rough paste that is jam-packed with flavaaaaaaa. Let that cook for 60 seconds. Please don't burn anything because then you'll have to start all over.
Add the flavor paste and the rest of the ingredients into your blender. Blend until smooth. Add some water if you need to thin it out. Adjust sriracha level to taste. Pour it on these bowls, and everything else.
Enjoy!
And here's one more (super pin-able) picture for you being so awesome.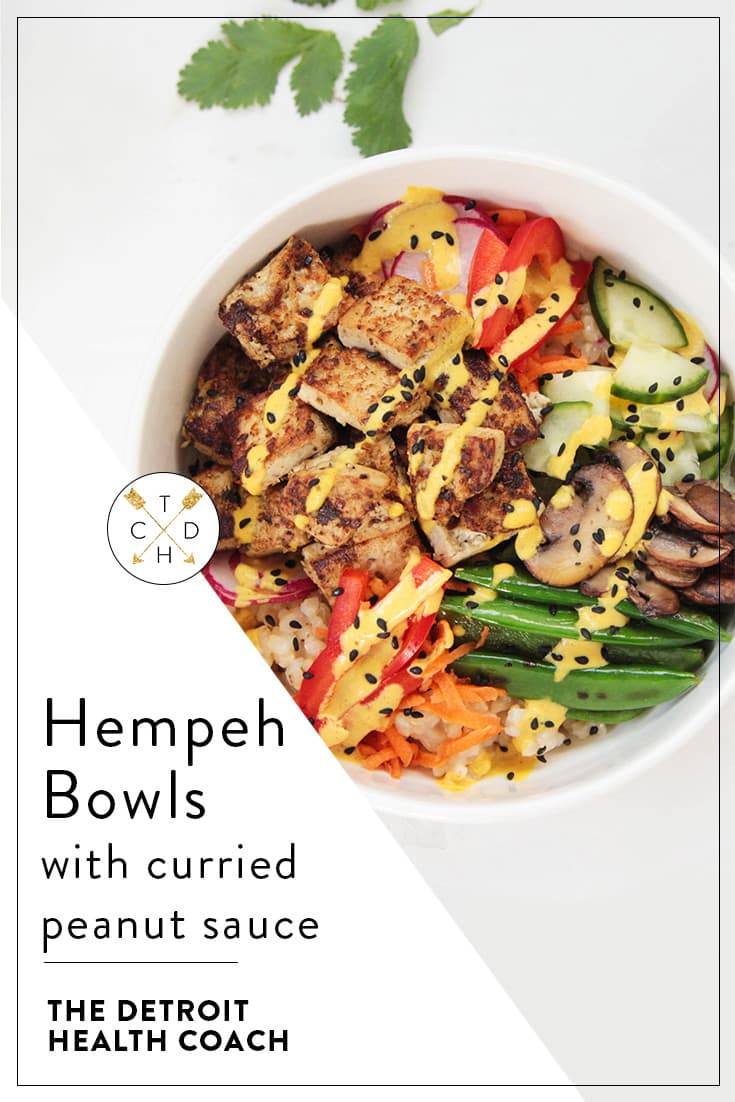 ---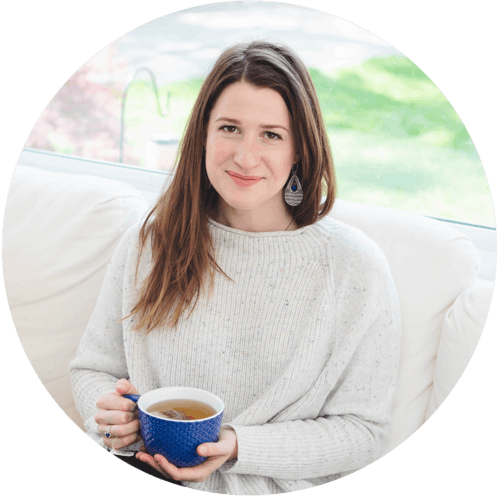 Hi! If we haven't met yet, I'm Marielle, aka The Detroit Health Coach. I'm here to help women just like you live happier and healthier lives. I specialize in weight management, inflammation reduction, and emotional eating. Want to work together? Click here.
I'm powered by tea and passion, and I'm on a ten thousand woman mission to change the world. Let's be friends!