This is my most popular soup recipe of all time. It might actually be my most popular recipe of all time.
In all the years of running cleanses, cooking workshops, and coaching programs, I've never had a recipe more universally loved than this one. It's not hard to see why! It's deeply flavorful, warming, and nutritionally packed to the brim with vitamins, minerals, and antioxidants.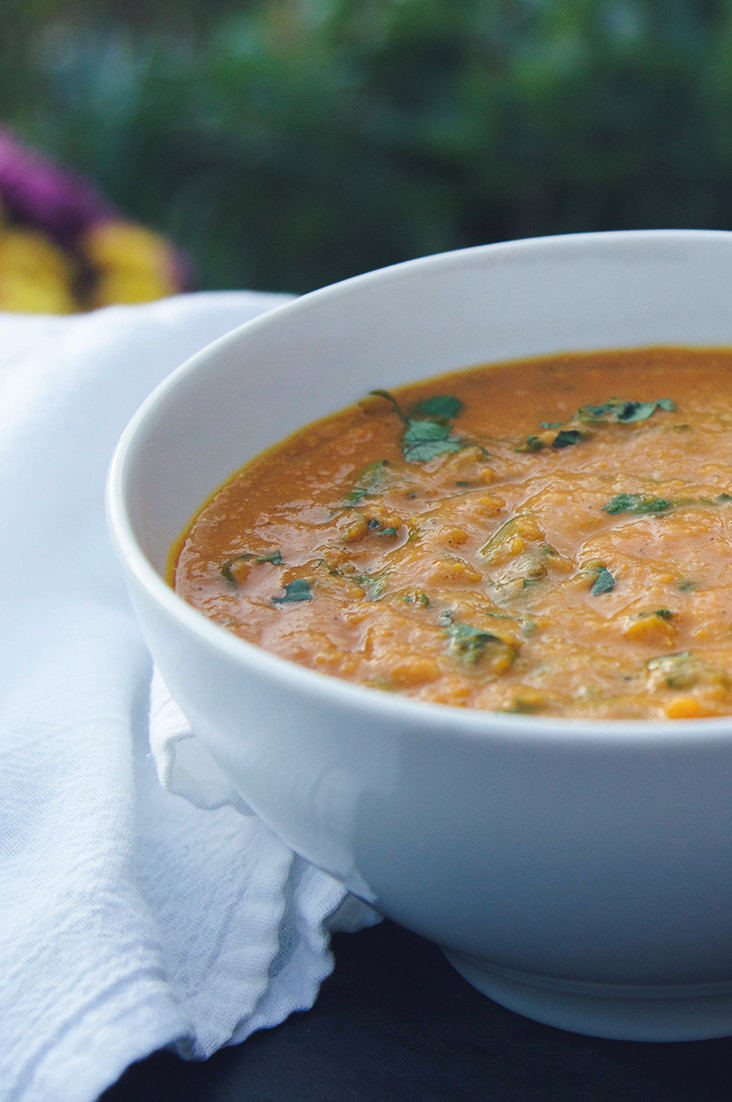 It's safe to say this Sweet Potato Detox Soup is the stuff dreams are made of.
If you have dreams of sailing through cold and flu season without a sniffle in sight, this is the soup for you. My all-time fave Sweet Potato Detox Soup will keep you warm and well as the weather turns colder.
It's packed with a fierce trio of cold-fighting superfoods (garlic! ginger! turmeric!) and flavored with the oh-so-elegant and tasty garam masala.
This totally plant-based beauty is loaded with fiber, protein, antioxidants, and minerals. It's nourishing and hearty enough to sate even the biggest of appetites, and I've been known to have a mug for breakfast on more than one occasion. It's vegan, gluten-free, soy-free, and probably destined to be your new favorite soup.
My biggest advice? Don't be discouraged by the long ingredient list!
Many of the ingredients are healthy kitchen staples you probably already have on hand, and the rest are easily accessible. After the initial 10-15 minutes of prep, the soup comes together quickly and easily. If you don't have an immersion blender, a regular blender works just as well—I promise!
Plus–this soup is versatile beyond belief. I've provided a list of modifications below the recipe.
This recipe makes a big batch, but since it freezes beautifully I've been know to double it and freeze into individual portions.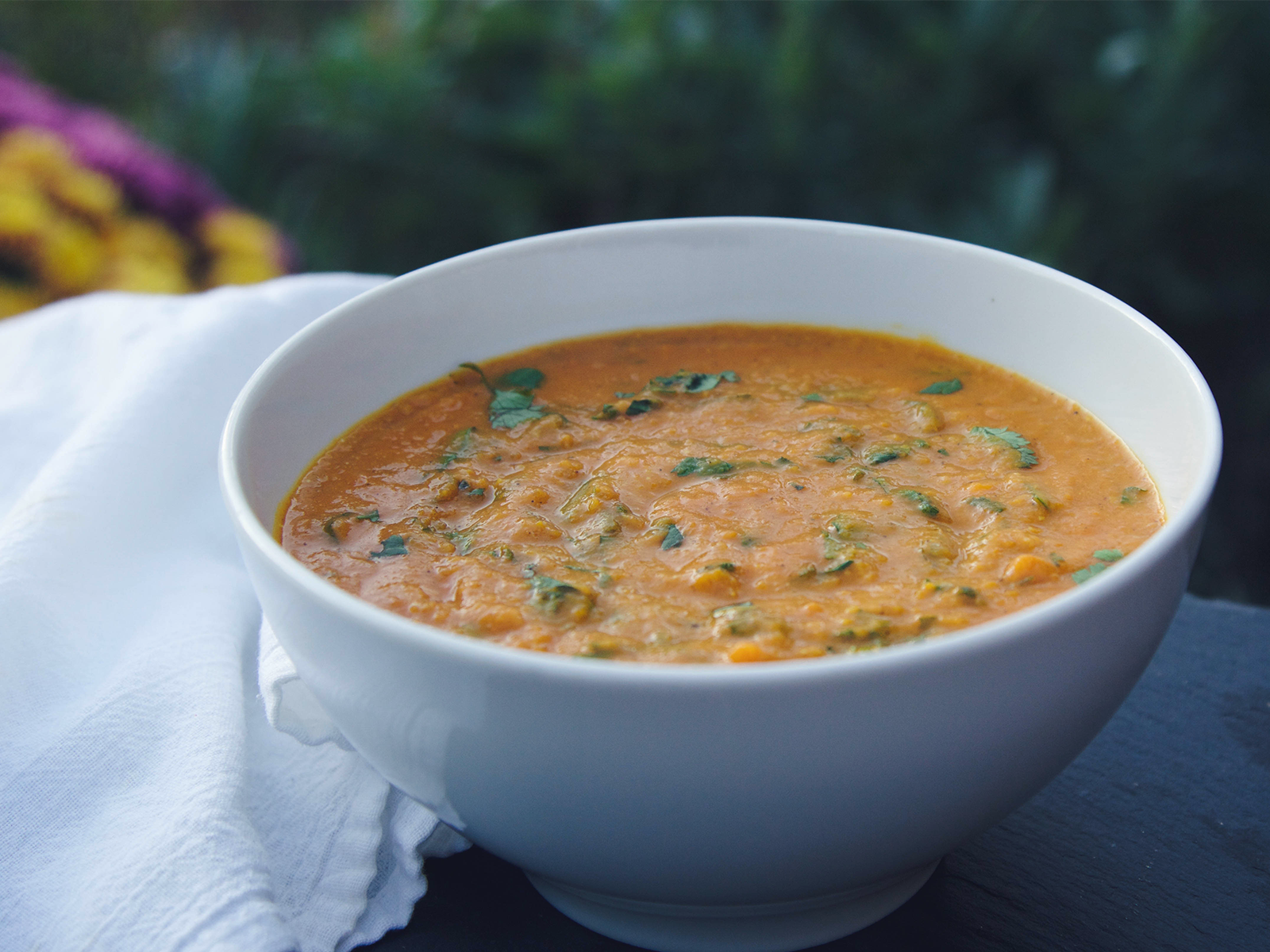 2 tsp coconut oil/olive oil/avocado oil
1 large yellow onion, chopped
2 carrots, peeled and chopped
4 stalks celery, chopped
1 granny smith apple, peeled, cored, and chopped
3 cloves garlic, minced
1 jalapeño, seeds removed (optional, depending on your spice preferences)
2 tbsp fresh, grated ginger
1 bay leaf
2 tsp garam masala or curry powder
2 tsp turmeric
2 tbsp tomato paste
1 cup water
1/2 tsp apple cider vinegar
2 large sweet potatoes, peeled and chopped
1 can cannellini or garbanzo beans, rinsed and drained
4 cups broth, preferably homemade
1 can coconut milk
1/2 cup chopped cilantro
6 cups shredded cabbage (like a cole slaw mix)
1 1/2 cup peas (optional)
sea salt, to taste
In a large, heavy bottomed soup pot, heat oil over medium-high heat. Once melted and shimmering, add onion, carrot, celery, apple, and a sprinkle of salt. Sauté for 3 minutes, or until the onions start to turn translucent.
Add garlic, ginger, jalapeño (if using), and stir well. Add the garam masala, turmeric, and tomato paste. Stir again to evenly distribute, and sauté for 5 minutes.
We want the mixture to be fragrant, the onions translucent, and the tomato paste to caramelize just a little bit. Stir often during this time, scraping the bottom of the pot with a wooden spoon to keep the ingredients from sticking and burning.
Add the water and apple cider vinegar to the pot, and scrape up any browned bits from the bottom of the pot. Add the bay leaf, sweet potatoes, beans, and broth. Bring to a simmer, and cook, covered, for 30 minutes or until everything is tender. Stir occasionally. While the soup is simmering, chop your cilantro and cabbage.
Once all the veggies are tender, turn the heat off and add the coconut milk. Puree half the soup using an immersion blender or regular blender. Adjust salt and pepper to taste. Add the cabbage, cilantro, and peas (if using), and return to a simmer for 10 minutes or until the cabbage is cooked. If the soup is too thin for your liking, you can simmer, uncovered, until it thickens up more. If you'd like your soup to be thinner, add some water. Adjust seasonings to taste one final time, and enjoy.
Nightshade Free | Eliminating nightshades? Simply omit the jalapeno and tomato paste. Also--make sure your garam masala is cayenne pepper free.
Want to keep it lighter?| Use a light coconut milk instead of full fat coconut milk.
Ditch the legumes | If legumes upset your stomach, you want to keep it paleo, or you just don't like them, you can always leave the beans and peas out of the soup.
Swap out your veggies | This soup is soooo versatile. You can use leeks instead of onions. Other options to add in would include cauliflower, parsnips, rutabaga, celery root, mushrooms, zucchini, or summer squash. Instead of sweet potato you can make this with butternut squash, pumpkin, or kabocha squash. I love to use coleslaw mix for the shredded cabbage (less prep work = more play time), but I've also used a bag of shredded cabbage, kale, and brussels sprouts.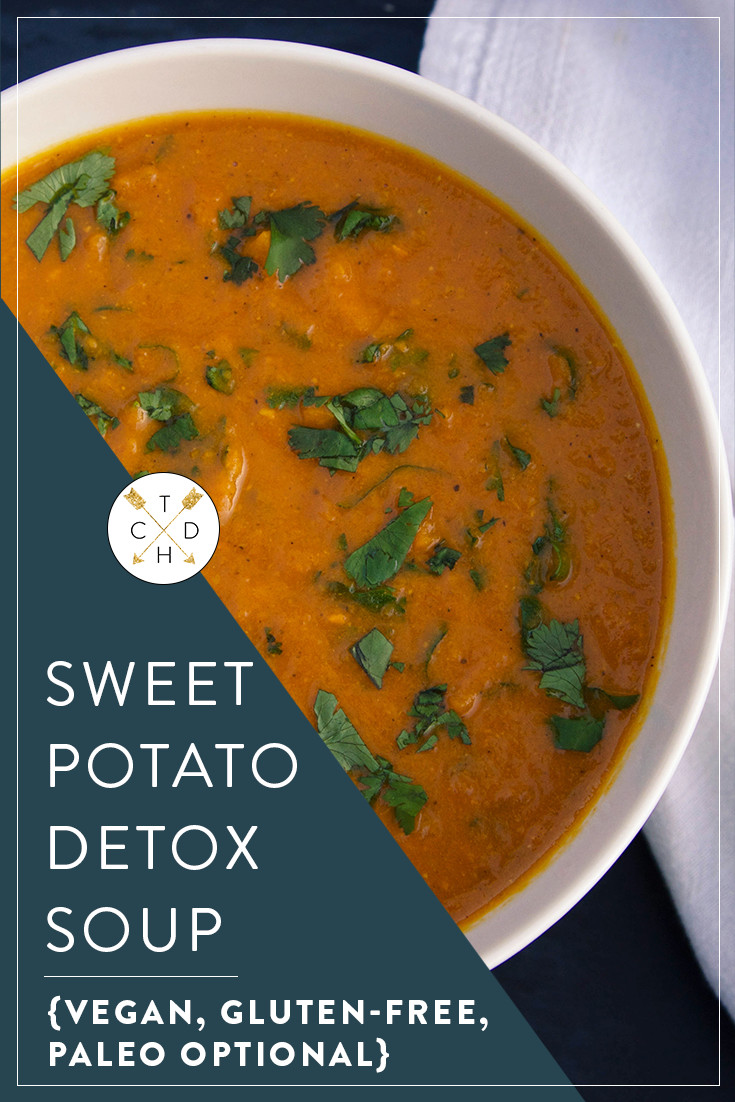 ---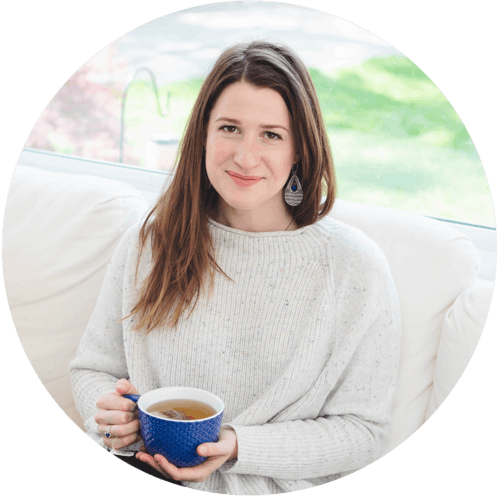 Hi! If we haven't met yet, I'm Marielle, aka The Detroit Health Coach. I'm here to help women just like you live happier and healthier lives. I specialize in weight management, inflammation reduction, and emotional eating. Want to work together? Click here.
I'm powered by tea and passion, and I'm on a ten thousand woman mission to change the world. Let's be friends!