I've always loved the idea of minestrone. A thick and tomato-y Italian vegetable soup packed with veggies? Sign me up!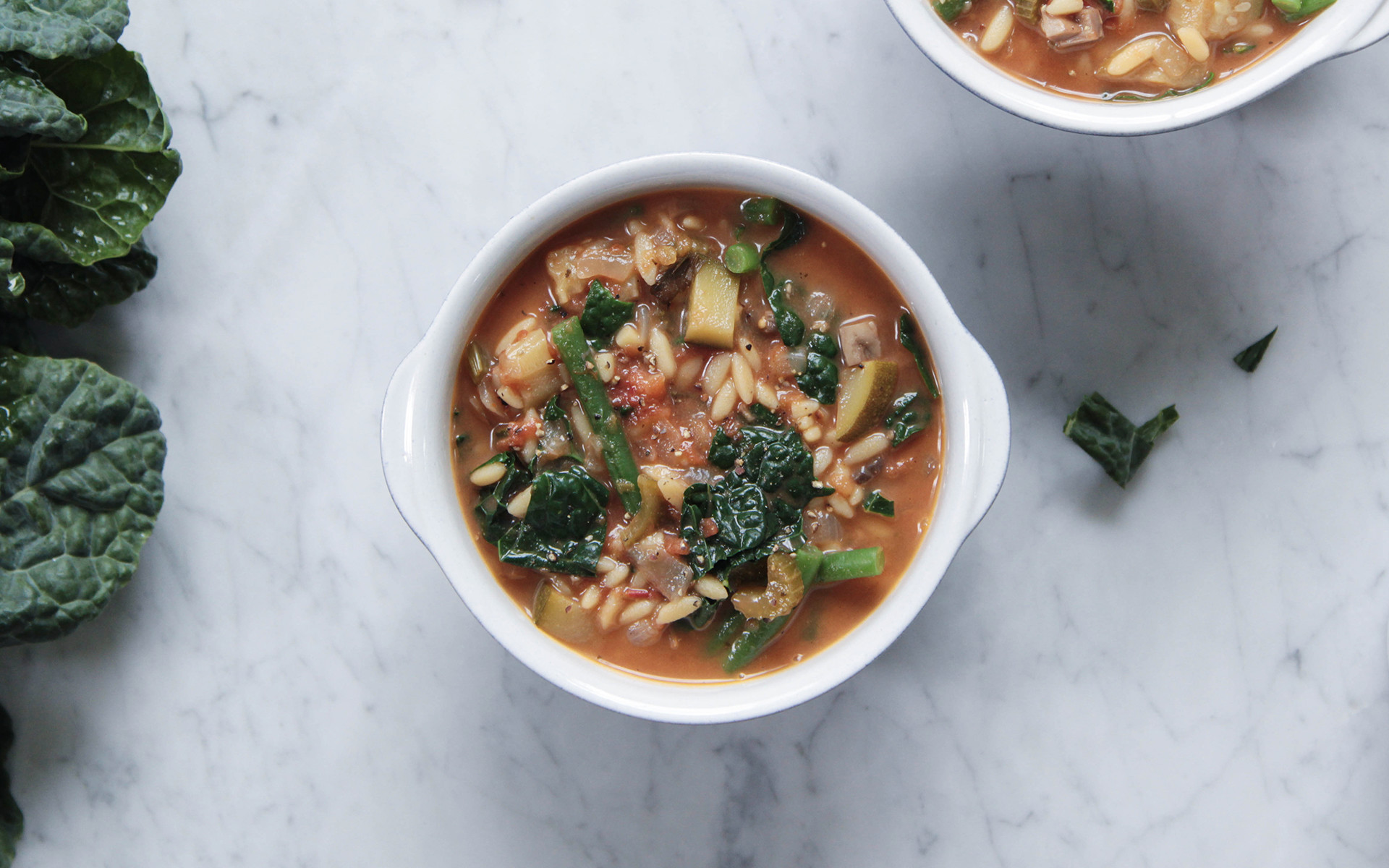 Alas, most minestrone you find in restaurants has pasta in it of the glutenous variety, or it is thickened with flour of the glutenous variety, and so I have gone completely minestrone-less for the past dozen or so years of my life.
I was never in a big hurry to re-vision the soup in a gluten free way because the little pasta always seemed like a pretty necessary addition, and most gluten free pasta is not soup friendly because it turns to total mush the moment it's submerged in liquid longer than 15 minutes.
Enter: gluten free orzo.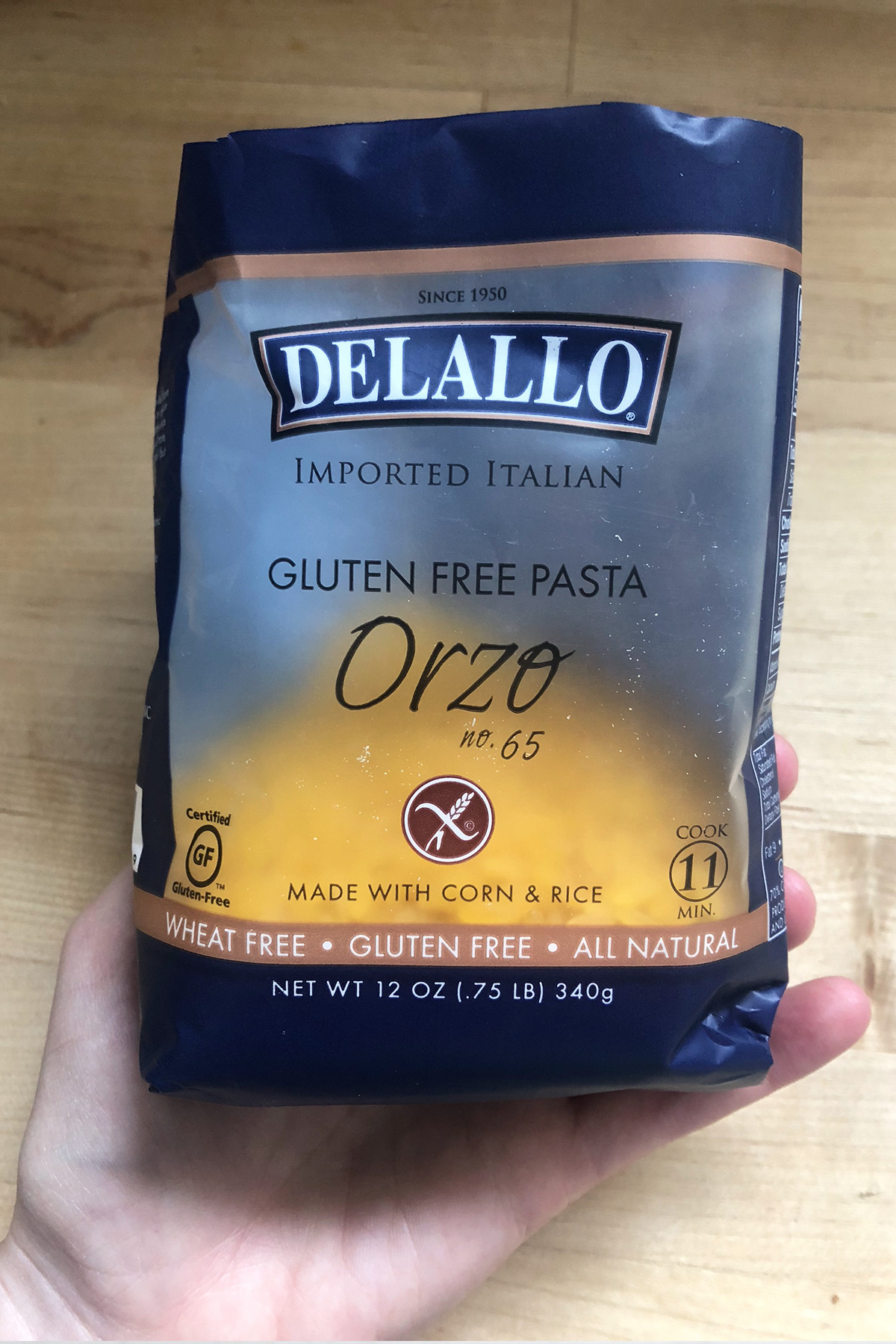 Do you see in the corner of the package where it says 11 minutes to cook? Yeah...that's totally wrong. This stuff takes more like 20-25 minutes to cook through. And it doesn't turn to mush. And it's totally tasty. And it's PERFECT for soup.
And so, gluten free orzo minestrone was born. This is a vegan optional soup that is packed with veggies & flavor.
It comes together easily. I like the zucchini to be super cooked, almost to the point of falling apart, so I add it pretty early in the cooking sequence. If you'd like your zucchini to be more on the tender-crisp side of things, just add it with the kale and green beans.
Let's get cooking, my friends.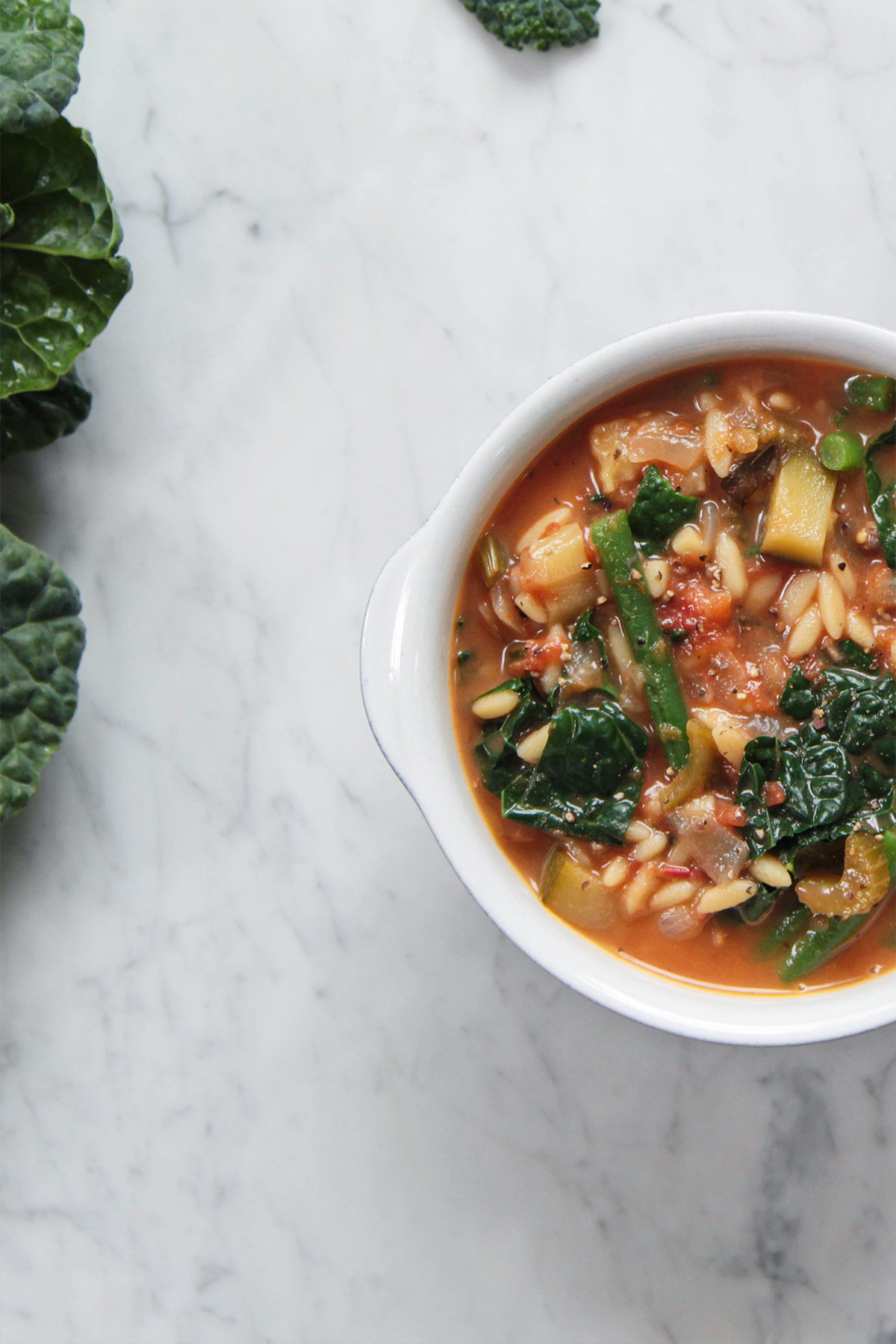 Gluten free // vegan optional
1 tbsp olive oil
1 large yellow onion, finely chopped
2 carrots, peeled and sliced
3 stalks of celery, finely sliced
1-2 cloves of garlic, minced
1 c. mushrooms, finely chopped (about 4 oz.)
1 tbsp tomato paste
1 tsp dried oregano
1/2 c. red wine
1 15 oz. can of diced or chopped tomatoes
4 c. broth
3 c. water
2 bay leaves
2 medium zucchini, chopped
3/4 c. Delallo gluten free orzo
1 c. chopped green beans
5-6 big leaves of lacinato kale, stems removed and chopped
shaved parmesan, for serving (optional)
2-3 parmesan rinds (optional)
sea salt & fresh cracked pepper, to taste
Heat oil in a large dutch oven or soup pot over medium-high heat.
When shimmering add onion, carrot, and celery. Sprinkle with a little salt. Saute for 5-7 minutes, or until quite tender.
Add in garlic, oregano, tomato paste and mushrooms. Sprinkle with a little salt and add a dash of pepper. Saute another 5 minutes, or until the mushrooms have released their water, that liquid has evaporated, and everything is starting to caramelize a little bit.
Deglaze the pot by pouring in the red wine and using the back of a wooden spoon to scrape up any browned bits from the bottom of the pan.
Add the broth, water, diced tomatoes, bay leaves, and zucchini. If using parmesan rinds, add those now. Bring to a simmer. Simmer, gently, for 5 minutes.
Add the orzo and stir well. Contune cooking for 20 minutes, or until the orzo is plump and just cooked through. The orzo might try to stick to the bottom of your pot, so every couple of minutes give your soup a stir and scrape the bottom.
Once the orzo is cooked, the soup should have thickened quite a bit. Add the kale and green beans. Simmer for another 10 minutes, and remove from heat. remove bay leaves and parmesan rinds. Adjust salt and pepper, to taste. Serve with shaved parmesan, if desired.
On Broth: I always recommend using homemade, unsalted broth and adding salt throughout the cooking process to created layered, lovely flavors. Store bought broths tend to be a bit one-note, flavor wise, and they frequently contain undesirable ingredients like MSG. If you are using a store bought broth, make sure there is no MSG or "chicken flavoring" type ingredients, and always go for lower sodium options.
If opting for a vegan soup, make sure you use vegan broth and omit the parmesan
Swap ideas:

No mushrooms? Skip them.
Swap out spinach for kale, just reduce the cooking time to 3 minutes.
Use frozen green beans, or replace green beans with frozen peas.
Instead of red wine, you can use 1/2 c. broth with 1 tsp balsamic vinegar added in.
Add in a can of rinsed and drained white beans.

If you would like this soup to be creamy, puree 1/2-1 can of white beans with some broth until silky smooth, and then add the puree into the soup.
The only gluten free orzo that I have used when making this soup is the one pictured above, from the DeLallo brand. I cannot guarantee you will get the same results if you use a different brand. I picked up my gf orzo at my local regular grocery store in the Italian food section.
This Orzo Minestrone soup is best enjoyed within the first 3 days of preparation, because the orzo does get a little mushy after that. However, I'd be mighty surprized if it even lasts that long, because it is DELISH.
Looking for more delish recipes to keep you healthy & happy all season long? I've got you covered with my fall recipe collection. Download your copy now!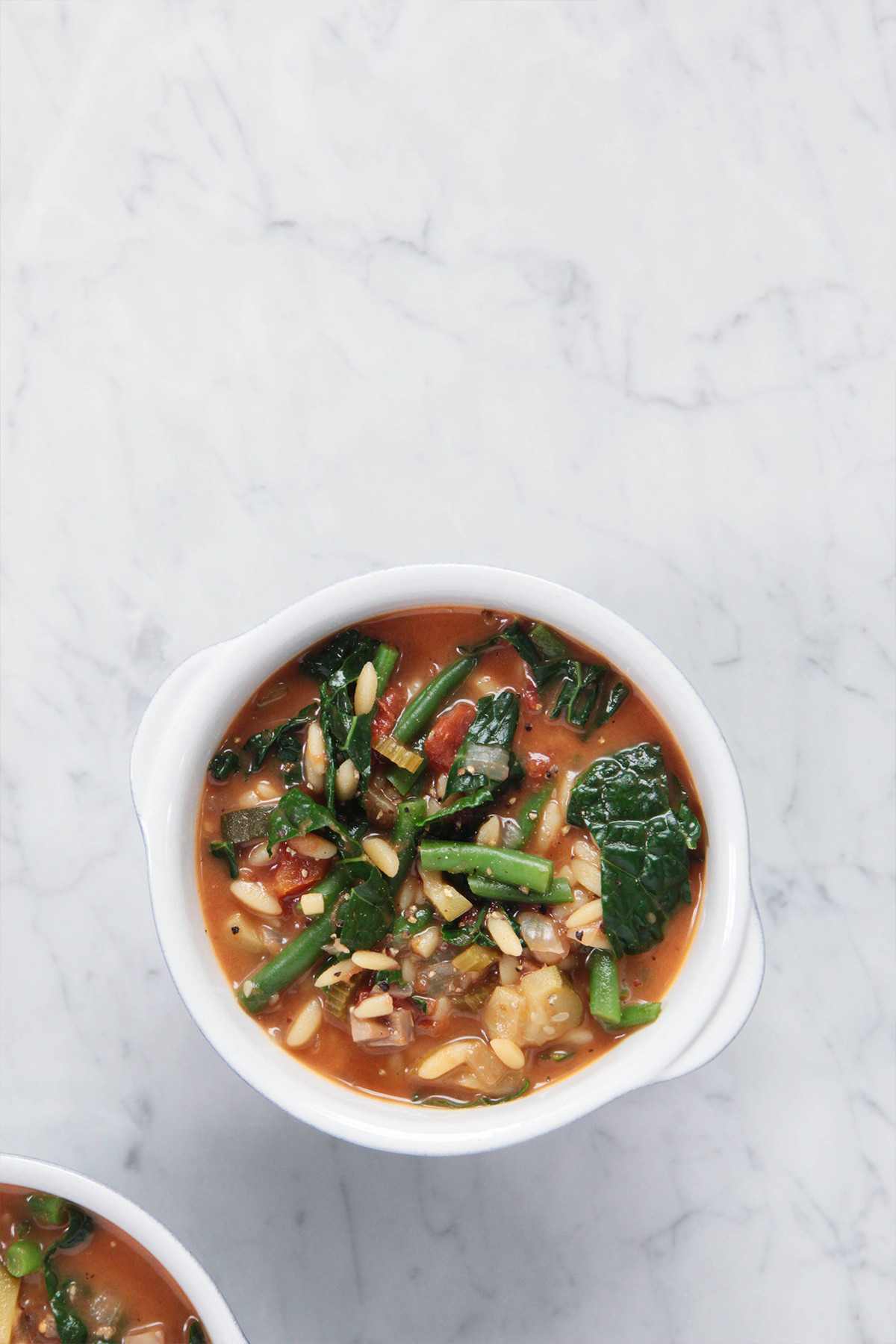 ---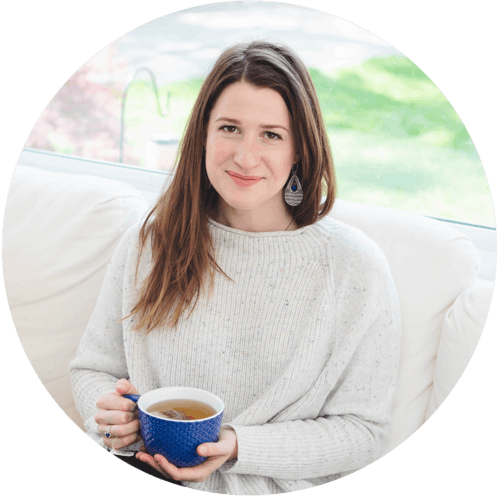 Hi! If we haven't met yet, I'm Marielle, aka The Detroit Health Coach. I'm here to help women just like you live happier and healthier lives. I specialize in weight management, inflammation reduction, and emotional eating. Want to work together? Click here.
I'm powered by tea and passion, and I'm on a ten thousand woman mission to change the world. Let's be friends!