In the last week it has suddenly turned chilly in Michigan, leaving me wanting nothing but soups and stews and warming, cozy recipes. This hearty Moroccan Vegetable Stew fits the bill perfectly.
Plus, it's got that magical, energy balancing combo of fat, fiber, plants, and protein that I'm always talking to my clients about! It's packed with plant-soruced protein from white beans, abundant fiber from lots of veggies, good cholesterol boosting mono-unsaturated fats found in avocado oil, and of course, #alltheveggies we can muster.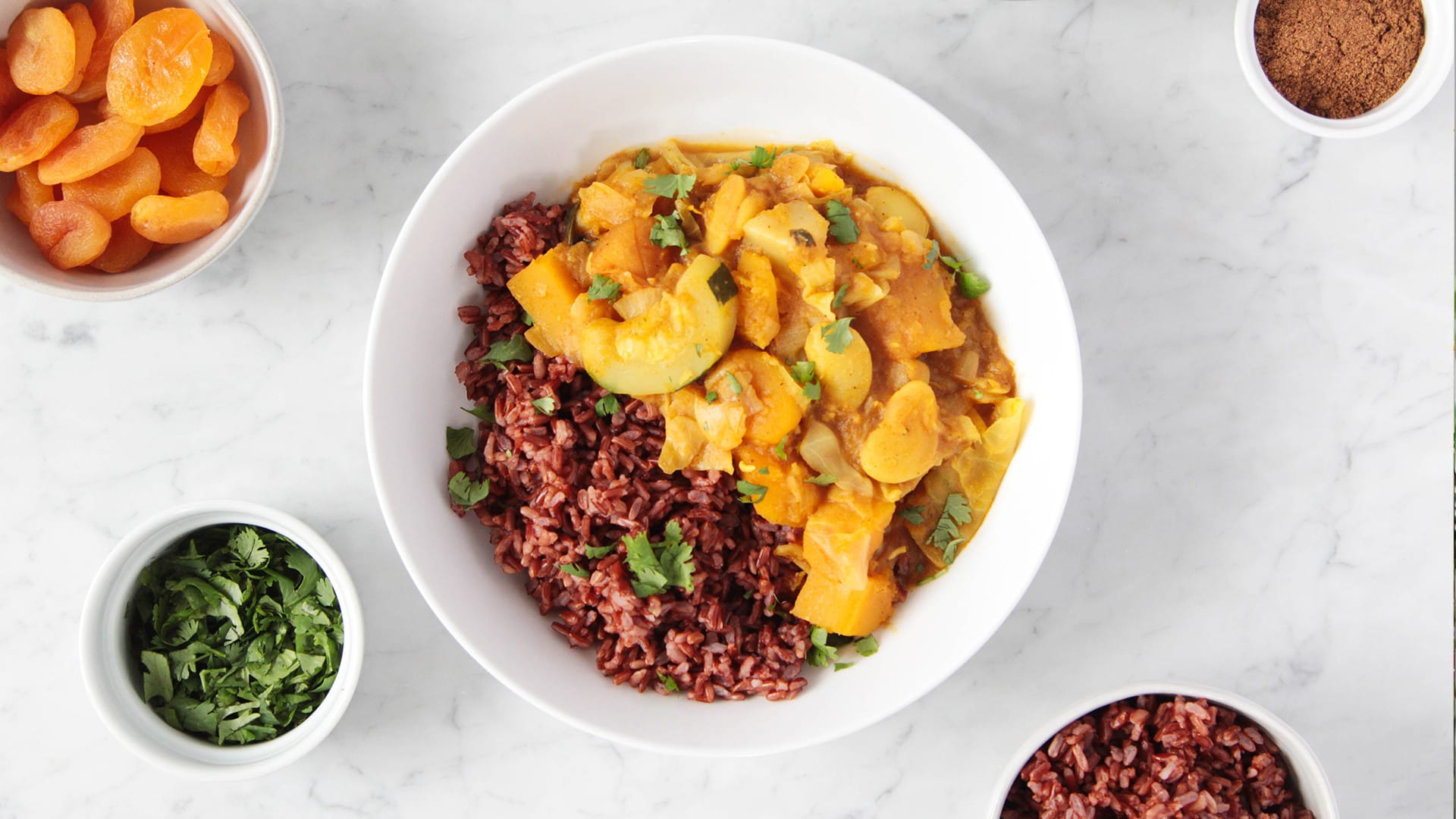 Can we pause here for a moment to talk about fat, really fast? I want to explain why I L-O-V-E healthy dietary fats, and why I always make sure there is a good source of healthy fats in everything I cook.
Fat is good-mood food | Our beautiful brains are made up of 60% fat. Fat helps the body produce feel-good hormones that keep us happy & healthy.
Fat is necessary for nutrient absorption | Some vitamins are water soluble, like vitamins B & C. Other vitamins are fat soluble, like vitamins A, D, E, and K. When consuming foods that contain these nutrients but not a lot of fat (like all the veggies in this recipe!) it's important that we add in a source of healthy fat.
Fat keeps us even keel | Healthy fat is a necessary part of keeping our blood sugar balanced for steady energy, focus, and mood.
Of course, not all fat is created equal. Some fats, like soybean oil, can be highly inflammatory and should be avoided. I recommend cooking with olive oil, avocado oil, coconut oil, ghee or pastured butter, and sesame oil.
Also? Including healthy fats in our diet is crucial to supporting a healthy weight.
Okay. Enough about fats (apparently I need to write a blog post about them!), let's get to the recipe!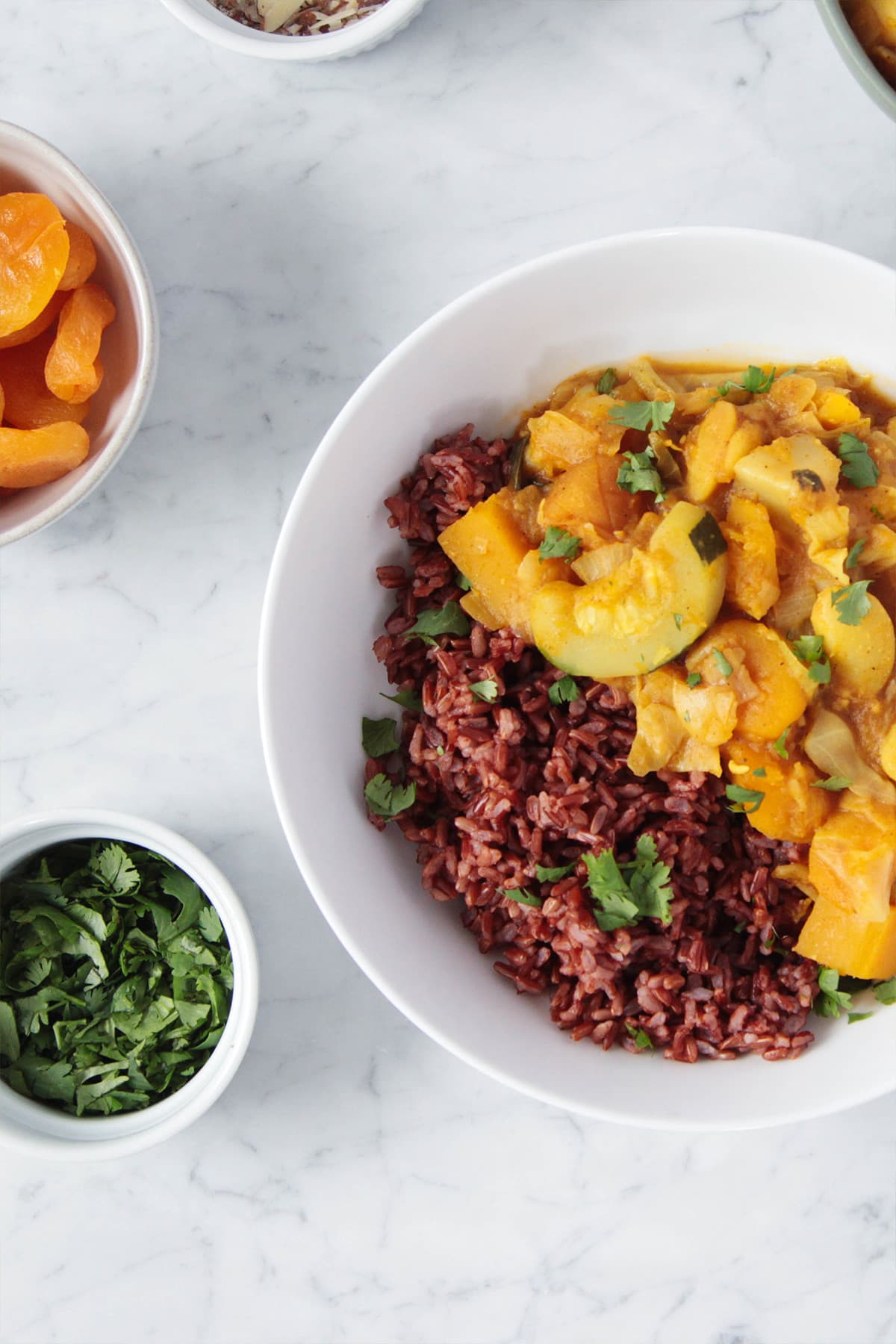 1 tbsp olive oil or avocado oil
1 large onion, chopped
4 cloves garlic, minced
4-5 tsp ras el hanout
1-2 tsp sea salt
1 c. dried large white beans, cooked OR 2 cans of large white beans, rinsed and drained
2 c. broth
2 tbsp tomato paste (omit for nightshade free)
1 small butternut squash, peeled and cubed
2 zucchinis, sliced into half moons
1/2 small green cabbage, chopped
1/2 c. dried apricots, roughly chopped
cilantro and slivered almonds, for garnish
Heat a large dutch oven over medium heat. Add the oil, and warm until it glistens. Add the onion and saute for 5 minutes. Add the garlic, ras el hanout, and a pinch of salt. Saute for another 1-2 minutes, or until everything is fragrant and the onions are translucent. If anything starts to stick, add a splash of broth or white wine to deglaze the pan.
Add beans, squash, broth, another pinch of salt, and tomato paste. Stir well, and cook, covered, for 10 minutes. Stir again. Turn the heat to medium-low.
On top of beans/broth/squash mixture, layer the zucchini, and then the cabbage on top of the zucchini. Do not stir. Cover again, and cook for 15 minutes.
Add the dried apricots, stir, and cook for an additional 5 minutes.
Season with salt, to taste. Serve with cilantro and slivered almonds. You can serve with rice, quinoa, or on it's own.
Ras el hanout is a North African spice blend popular in Morocco. There's no definitive recipe for it, and it's usually a blend of a dozen or more different spices. I grabbed my Ras el hanout in bulk from Germack in Eastern Market, Detroit. My guess is that it is this one from Frontier.
Feel free to use any orange, hard squash! Just make sure you peel it. In a pinch, you could also use sweet potato.
If you don't dig cabbage, collard greens work beautifully in this dish as well!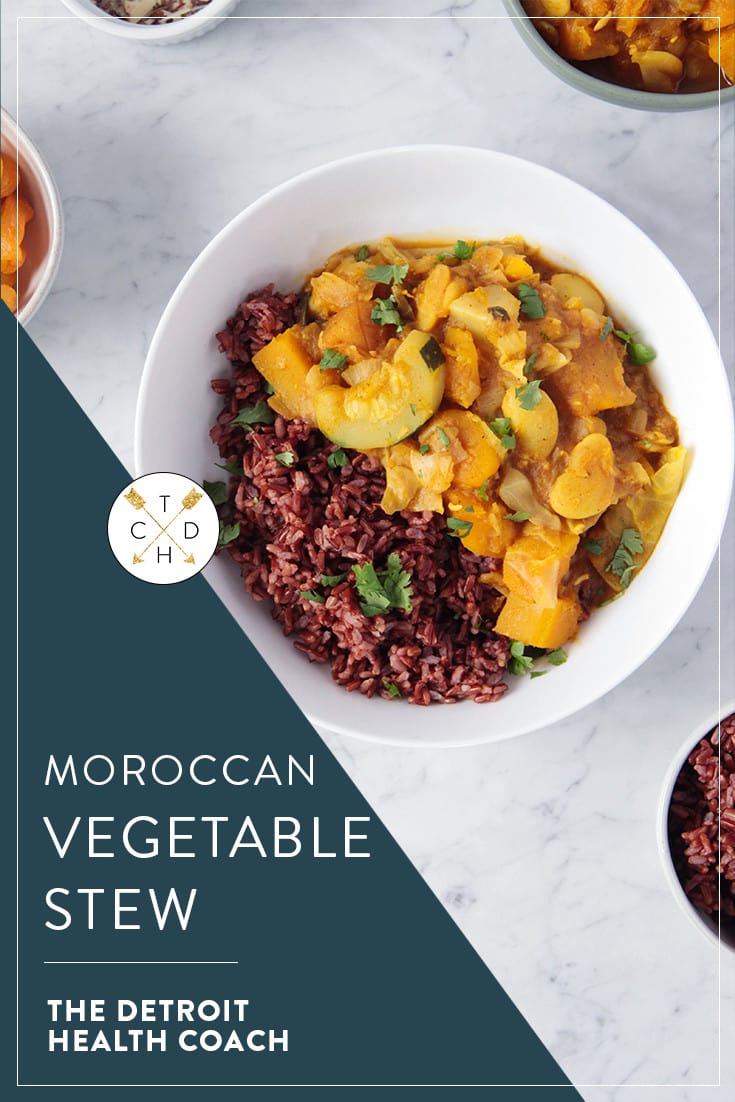 ---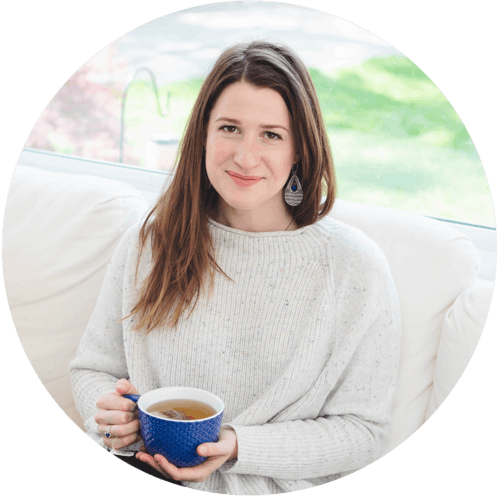 Hi! If we haven't met yet, I'm Marielle, aka The Detroit Health Coach. I'm here to help women just like you live happier and healthier lives. I specialize in weight management, inflammation reduction, and emotional eating. Want to work together? Click here.
I'm powered by tea and passion, and I'm on a ten thousand woman mission to change the world. Let's be friends!