In our house, Halloween is the official start to chili season.
This year was no different. Halloween rolled around and I was passing out candy with a cauldron of treats in one hand, and a bowl of chili in the other.
Not just any chili though. This chili has a superfood boost with the help of some pastured beef, buckwheat, and greens. Yes, my chili features kale. Obviously.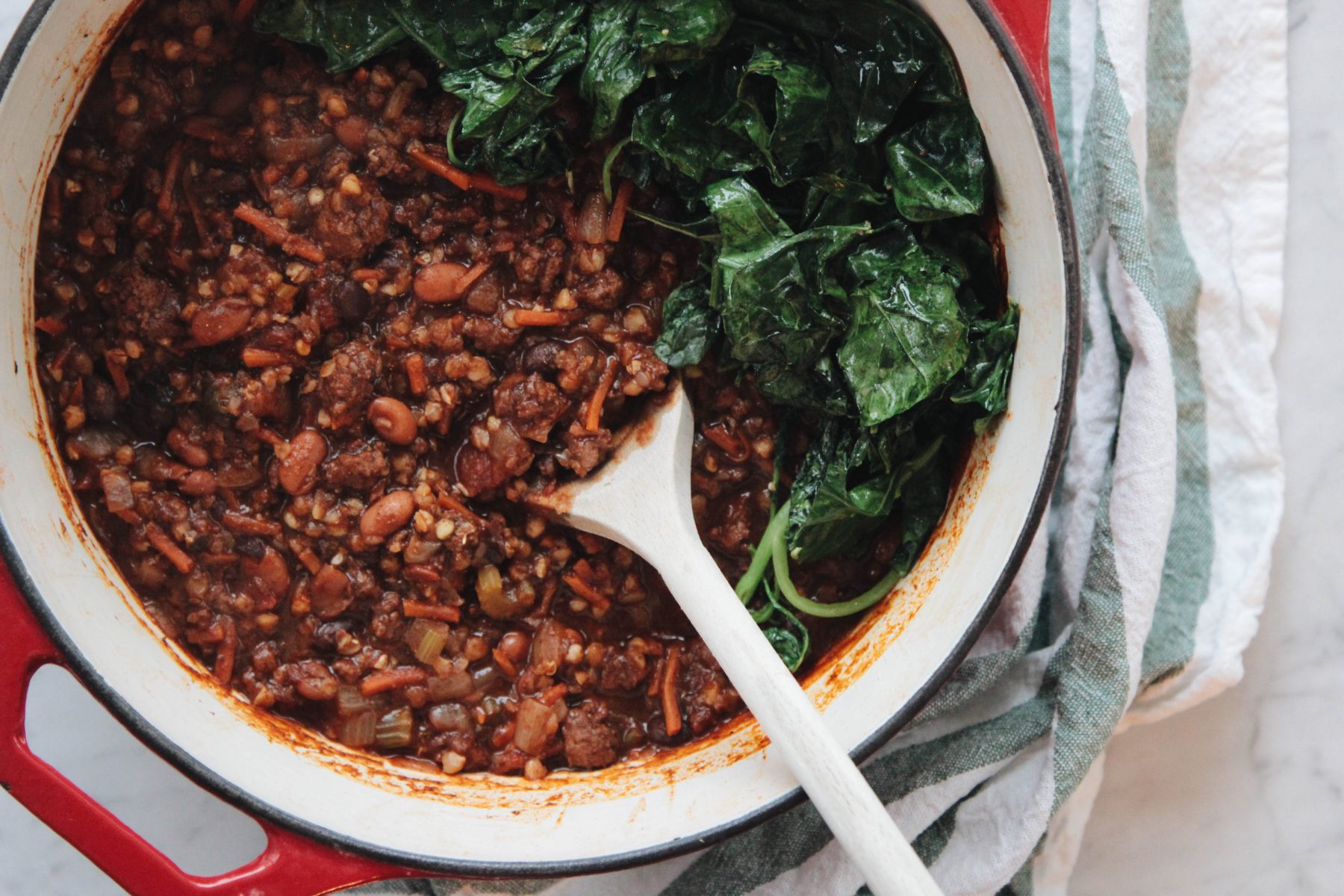 Let's talk about meat really quickly. One of the things I tell my clients is to only eat higher quality animal products, and to be very picky about their sources. I recommend pastured, local meat in particular.
Ethically and environmentally, it's best to not participate in the commercial animal farming industry.
Also? The meat is just healthier and better for you.
Omega-3s | Grass fed beef has higher levels of healthy, anti-inflammatory fatty acids (omega-3s and CLA) and lower levels of pro-inflammatory omega-6 fatty acids.
No Hormones or Antibiotics | Pastured animals are raised without hormones or antibiotics (which remain in the meat and then are consumed).
Better for the animals | It's so important to be a conscious consumer. When you choose to eat meat, you are choosing to eat an animal. We've got to take responsibility for that choice! With grass fed beef from small, family farms, the animals are raised in a healthy, peaceful, and low-stress environment.
Better for the environment | One of the largest causes of pollution and contributors to global warming is commercial animal farming.
One of the things I always hear when I recommend choosing grass fed meat from small farms is that it is more expensive. That is totally true! It happens to cost a lot of money to raise an animal in a healthy, ethical environment.
However, most Americans are overconsuming meat. I recommend eating less meat, and making it much higher quality. Remember that 1 serving of meat is 3-4 ounces!
My go-to source for local, pasture-raised beef is Apsey Farm. The Apsey family has been raising animals in Michigan for 4 generations! Their meat is high quality and totally delish. Kyle sent me a bundle of their meat to try out, and the Heidebrink-Caruso crew is totally hooked. Best part? They ship right to your front door.
I can't recommend them highly enough. Check out all the Apsey Farm bundles by clicking here, and when ordering use the discount code MARIELLE for 20% off your first order. Score!
Okay. Let's get to the recipe!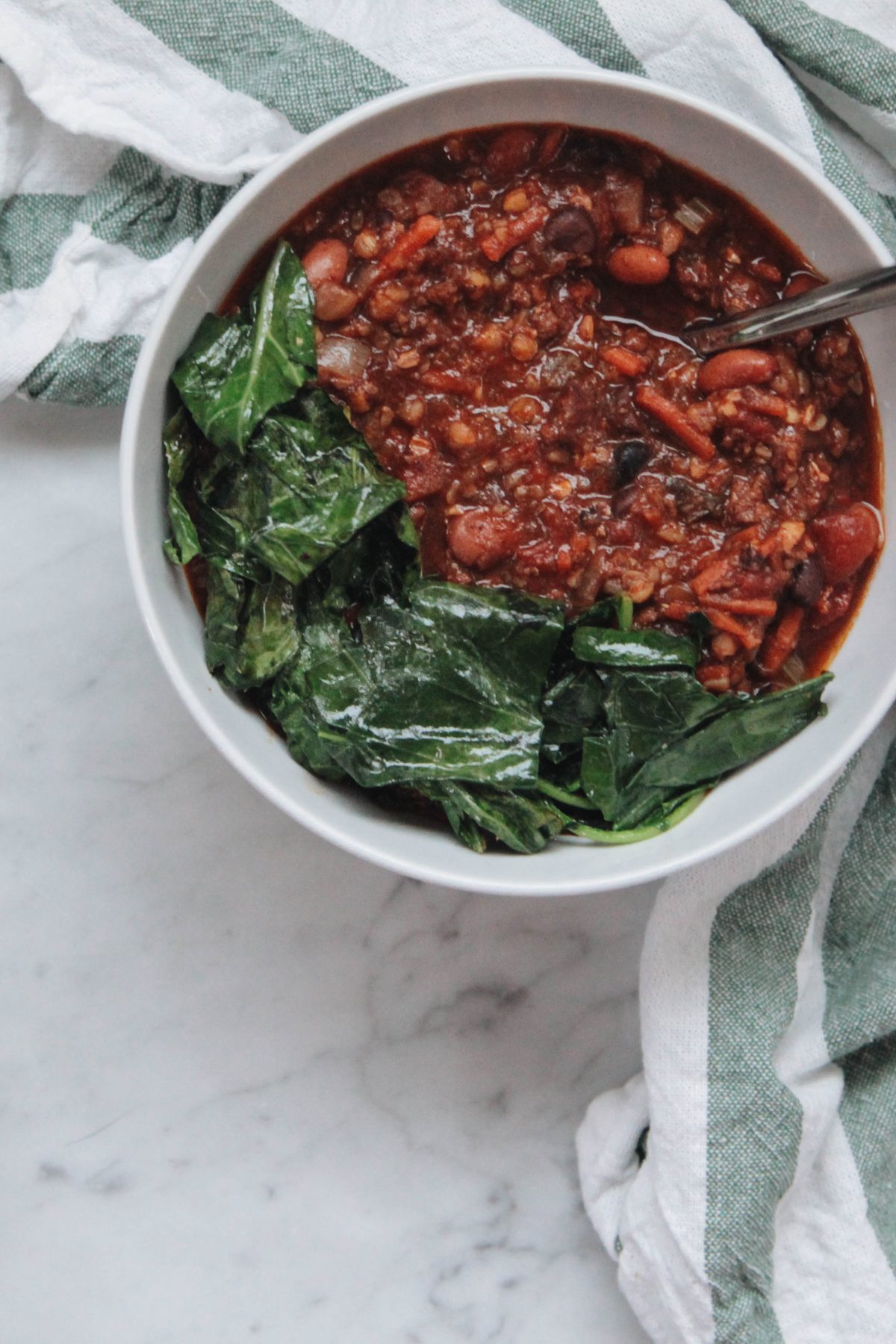 1 tsp. avocado oil
1 lb. pasture raised ground beef (I recommend Apsey Farms!)
1 large yellow onion, chopped
1 stalk celery, minced
1 c. shredded carrots (or 2 large carrots, finely chopped)
2 cloves garlic, minced
2-3 tbsp chili powder (this one is my favorite)
1-2 tbsp cumin powder
1/2 tsp. chipotle chili powder (this adds heat! use sparingly if sensitive to spice)
14 oz. can diced tomatoes
2 tbsp tomato paste
14 ounce can black beans, kidney beans, pinto beans, or adzuki beans
4 c. broth
1 tbsp molasses
1/2 c. buckwheat groats (or short grain brown rice)
sea salt & pepper, to taste
1 bunch dark leafy greens, like kale or collards
1 tsp avocado oil.
Heat 1 tsp avocado oil in a large, wide dutch oven or soup pot over medium-high heat. Add the beef, and break up into small pieces using a wooden spoon. You want to brown the meat, not steam it, so keep the heat high and don't stir too much. The caramelization as you brown the meat adds SO much flavor. Sprinkle with salt and pepper.
When the meat is mostly browned, add the onion, celery, and carrots. Turn the heat to medium. Continue to saute for 5 minutes. Add the seasonings: chili powder, cumin, and chipotle chili powder (if using). Stir well to combine. Add the garlic and saute for another 5 minutes. Sprinkle again with salt and pepper.
Add the tomato paste, and mash into the rest of the mixture. Allow to caramelize for a minute or two. Make sure nothing burns. Add a splash or two of water or broth to scrape up any browned bits from the bottom of the pot.
Add tomatoes, beans, and broth. Bring to a light simmer.
Add the buckwheat (or brown rice), and molasses. Cover, turn to medium-low, and simmer for 25-30 minutes or until the buckwheat is cooked through. Stir occasionally while simmering to make sure nothing sticks to the bottom.
While simmering, make your greens. Remove tough stems and chop leaves. Heat 1 tsp avocado oil in large skillet over high heat. Add the greens, toss with oil, and lightly press down in a single layer. Cook for 1-2 minutes. Flip, and cook for another 1-2 minutes. The greens should be lightly charred. Set aside.
When the chili is done cooking, season one last time with salt and pepper, to taste. Garnish with the charred greens, chopped green onion, and shredded cheese, if desired.
This chili can also be made with ground chicken, turkey, lamb, or bison.
Grass fed beef is much leaner than commercially raised, grain fed beef. Use some avocado/olive oil to help you brown it.
Buy pre-shredded carrots to save time
Try getting the tomato paste in a glass jar so you can store leftovers in the fridge
Choose darker color beans for higher antioxidant content!
I recommend using homemade broth, as always.
I use unsalted broth and unsalted tomatoes, and I usually end up adding about 1 tsp to sea salt to this chili. If you are using salted tomatoes and broth, you will need to add less!
This chili freezes fairly well. Defrost overnight in the fridge, and bring to a simmer on the stove when reheating.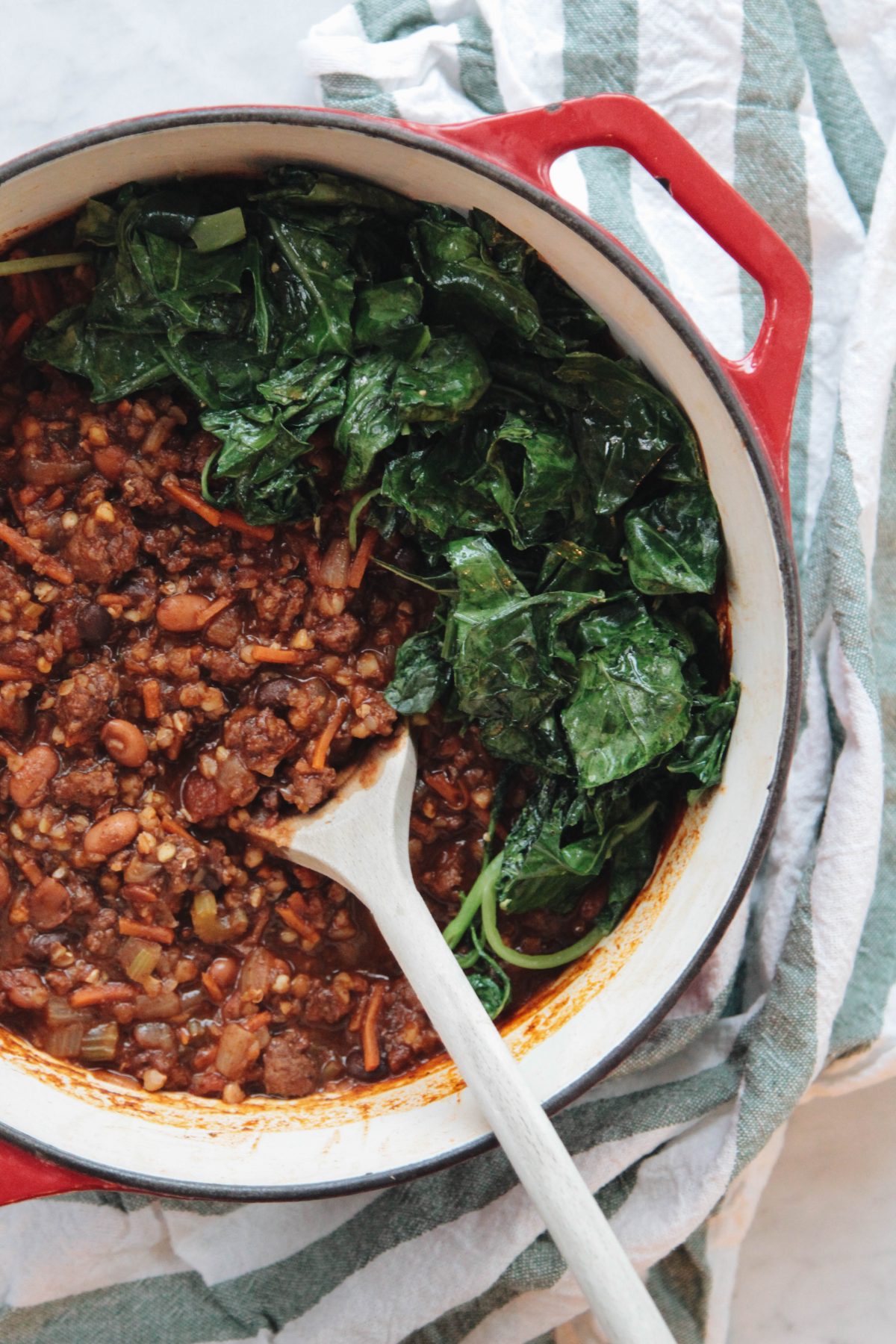 ---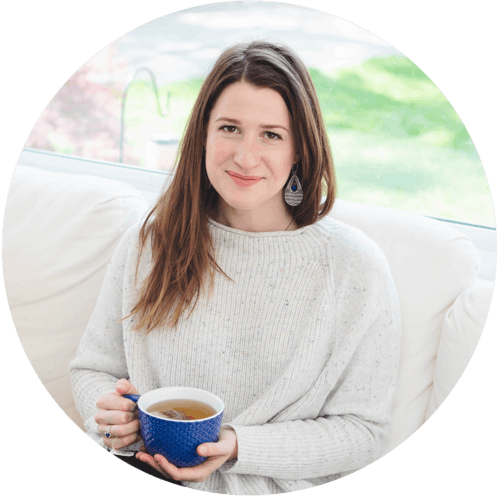 Hi! If we haven't met yet, I'm Marielle, aka The Detroit Health Coach. I'm here to help women just like you live happier and healthier lives. I specialize in weight management, inflammation reduction, and emotional eating. Want to work together? Click here.
I'm powered by tea and passion, and I'm on a ten thousand woman mission to change the world. Let's be friends!