Friends, I woke up this morning and it was -11 F.
I popped on some slippers, made myself some tea, and fed the birds.
And then? I made soup.
But not just any soup. This 13 Bean Soup that is so delicious, filling, and hearty. It's subzero weather soup. It's winter in Michigan soup. It's soup that makes me feel better about the fact that my garage door seems to be frozen shut.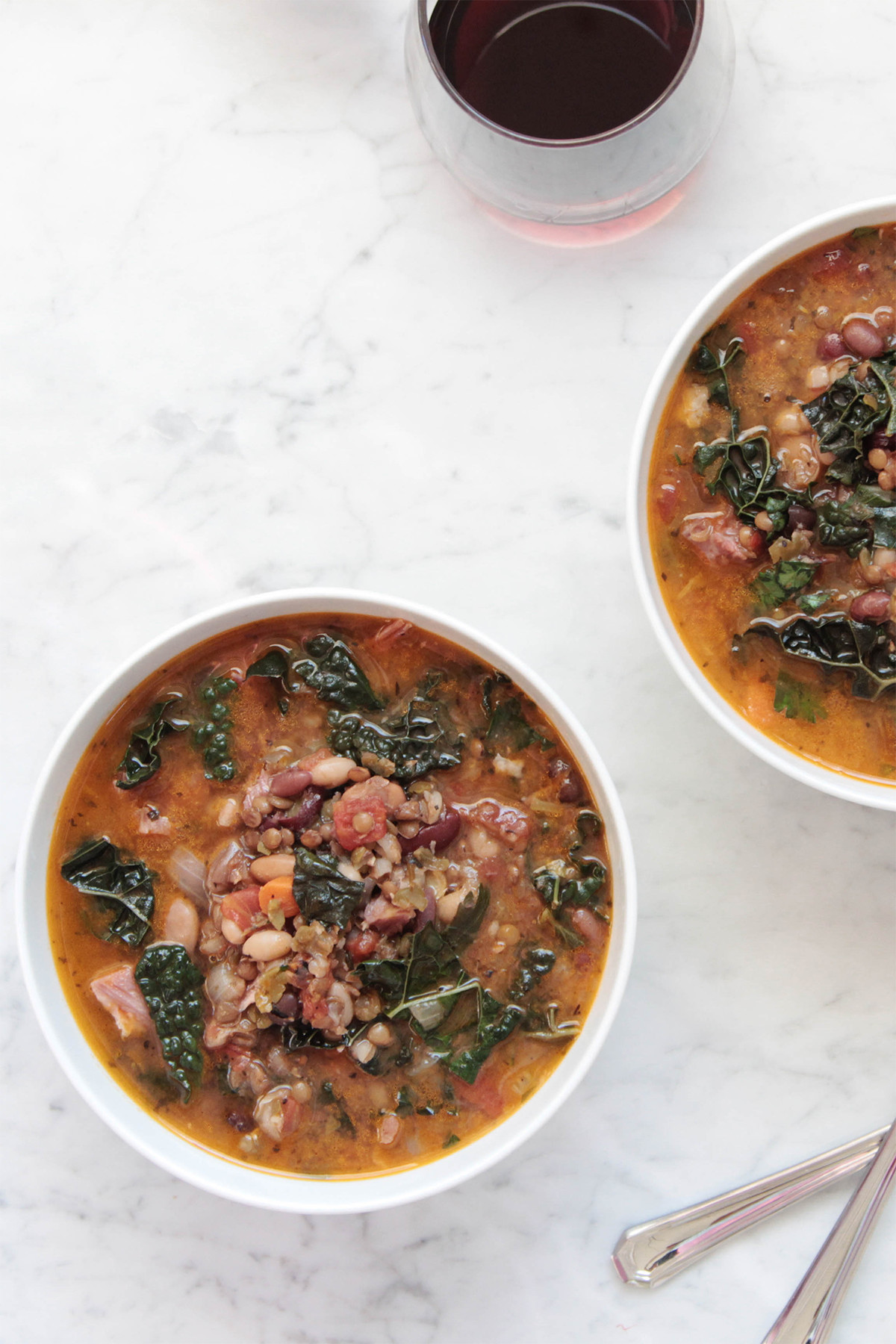 2 c. dried 13 Bean Soup blend from Bob's Red Mill (see note)
2 tbsp healthy fat of choice like ghee, avocado oil, or EVOO
1 large onion, chopped
2 carrots, sliced
4 stalks celery, sliced
2 tsp dried Herbes de Provence
1 bay leaf
14.5 oz can fire roasted diced tomatoes (do not drain)
1 ham bone or ham hock (see note)
4 cups broth (see note)
8 cups water
1 large bunch lacinato kale (about 1 lb), stems removed & chopped
1 bunch parsley, stems removed & chopped
Soak beans in enough water to cover by 3 inches. Soak covered, overnight, either in the fridge or on the counter. The next day, when you are ready to make your soup, drain and thoroughly rinse the beans.

Alternatively, place beans in a large pot and cover with 3 inches of water. Bring to a boil, reduce heat to simmer, and cook for 1 hour. Remove from heat. Drain and thoroughly rinse the beans.

Set the beans aside.

In a large soup pot with a heavy lid or dutch oven, heat oil over medium-high heat. Add onion, carrot, and celery. Turn heat to medium and sauté for 7-10 minutes, or until the onion is translucent and starting to brown. Add the Herbes de Provence halfway through sautéing.

Add the tomatoes and turn heat back up to medium-high. Cook for another 3 minutes, allowing the tomato to caramelize slightly. Add the bay leaf, broth, water, ham bone, and beans. Bring to a low boil, reduce heat to simmer. Cover and cook for about 2-3 hours, stirring occasionally, until the beans are completely cooked through and tender.

Check the water level every 20-30 minutes or so while simmering. If your pot doesn't have a heavy lid, you run the risk of too much water evaporating out and the soup burning. If the liquid level gets low, add more water or broth.

Remove lid and continue to simmer. Add kale, and cook for 10 minutes more, or until kale is tender and cooked through. Turn off the burner. Stir in the parsley. Remove the ham bone, shred off any ham you'd like, and return the meat to the pot.

Serve with crusty bread, a glass of good Italian red, and enjoy while curled up on the couch, under a blanket, while watching Harry Potter. I recommend the 3rd movie.
SLOW COOKER INSTRUCTIONS // Friend, I get it. A recipe that calls for simmering for 2-3 hours? Fuhgeddaboutit. So I present to you the slow cooker instructions! Prep your beans by using one of the methods described in step 1. Rinse the beans very well, drain, and add into your slow cooker. Add the rest of the ingredients, except for kale and parsley. Cook on low for 6-8 hours. 30 minutes before serving, add the kale and parsley, and give it a stir. Enjoy!
BEAN SOUP BLEND // I used the Bob's Red Mill blend for my soup. It is unseasoned, gluten free, and just beans & legumes. If using another bean soup blend, make sure it is unseasoned (those seasoning packets are loaded with nasties), and if you are gluten free make sure there is no barley or other gluten containing grains.
DIGESTIVE WOES // Beans a little tough on your digestion? Add a few kombu leaves while you're cooking the soup, and removed before serving. Kombu helps to make beans for digestible!
HAM BONE? // Yes, my friends. I recommend using a ham bone. I'm one of those weirdos who always takes the hambones and turkey carcasses after family holidays for making soup and broth, so I typically have a ham bone in my freezer (like I said: weirdo). But! If you aren't in the habit of swiping the ham bone after Christmas, you can get them at plenty of supermarkets. Look by the ham, or ask the butcher. They typically have them. I have gotten them at multiple Whole Food's locations. If you can't find a ham bone, use a smoked ham hock. As with any smoked meat, I recommend getting nitrate free and making sure it's as high quality as you can afford.
VEGETARIAN/VEGAN OPTION // Keep this recipe animal-product free by keeping the ham bone out of things and adding in 1 lb of chopped, meaty mushrooms like porcini, shiitake, maitake, and crimini. Saute the shrooms with the mirepoix (onion, carrot, celery mixture) at the beginning and then proceed as written (sans ham bone, obvi).
BROTH // If you follow me on instagram and watch my stories, then you know I'm obsessed with bone broth. I always recommend homemade broth because it's so flavorful, simple to make, and easy to freeze. Also--it's super healthy. If you're going for store bought broth make sure it is free from MSG, flavorings, and additives. Real food only, please!
VEGGIES ALL DAY // So I used lacinato kale in this because I looooove kale in soups, and I had it in my fridge. Other veggies to include (either in place of kale or in addition to it) could be mushrooms, zucchini, summer squash, collard greens, green beans, cauliflower, or cabbage. If you're using leafy greens (which I highly recommend), use at least 1 lb of greens in your soup.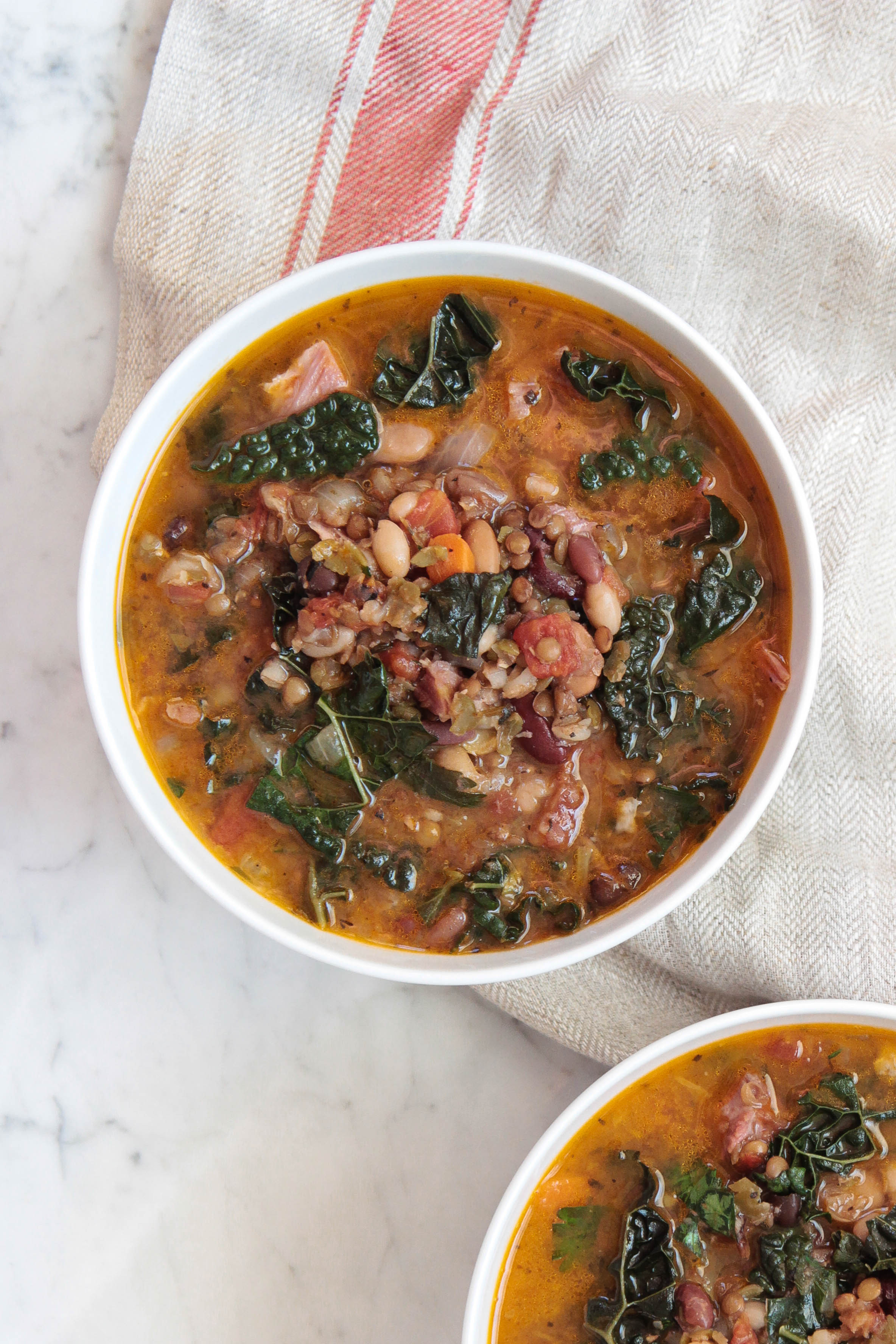 ---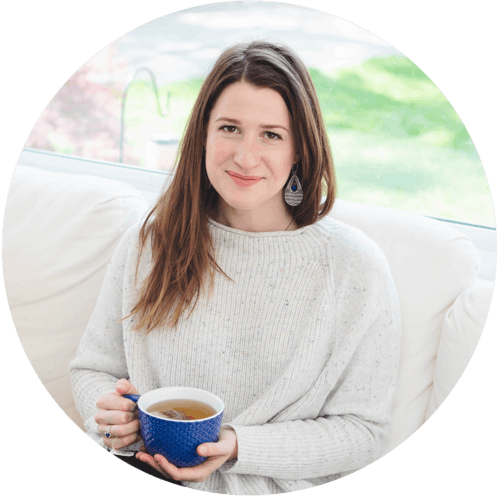 Hi! If we haven't met yet, I'm Marielle, aka The Detroit Health Coach. I'm here to help women just like you live happier and healthier lives. I specialize in weight management, inflammation reduction, and emotional eating. Want to work together? Click here.
I'm powered by tea and passion, and I'm on a ten thousand woman mission to change the world. Let's be friends!