This is a classic, hearty veggie soup with an Italian twist. It's a little like minestrone, minus the noodles. It's easy to make, and features readily available ingredients!
Don't skimp on the veggies–they really add the heartiness needed to make this soup filling.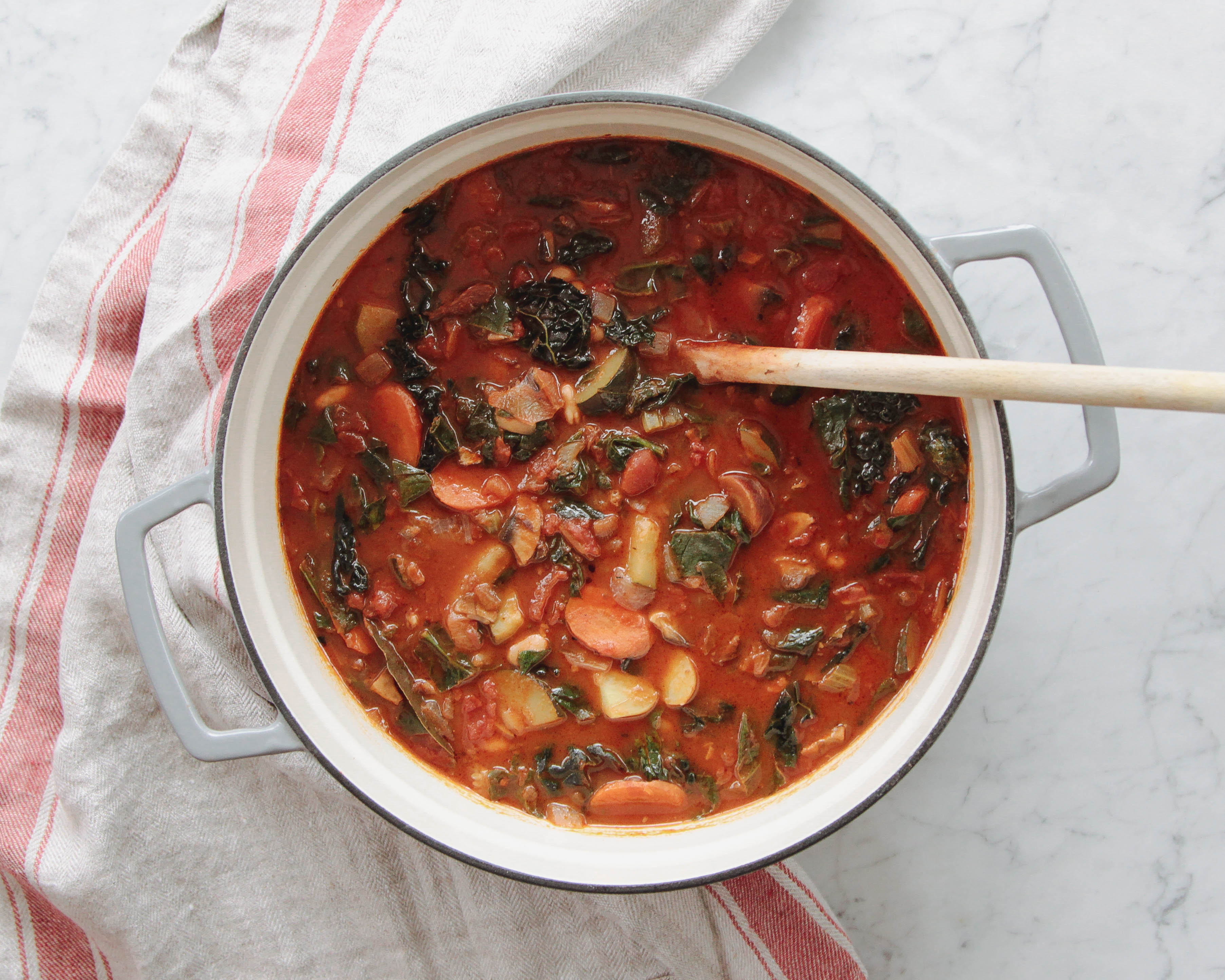 1 tbsp olive oil or avocado oil
1 yellow onion, chopped
3 stalks celery, chopped
2 large carrots, sliced
1 clove garlic, minced
8 oz. crimini mushrooms, roughly chopped
2 bay leaves
2 tsp Italian seasoning
14.5 oz crushed tomatoes
4 cups water
2 cups broth
1 can white beans, well rinsed
1 medium zucchini, chopped
2 cups chopped green beans (fresh or frozen)
6 cups chopped lacinato kale
sea salt & black pepper
In a soup pot or dutch oven, heat oil over medium.
Add the onion, celery, and carrot. Sauté for 7 minutes, until onions are slightly translucent. Add the garlic, and continue to sauté for a minute or so more. Season with salt and pepper, and add the mushrooms. Cook until the mushrooms have released their moisture, about 5 more minutes.
Add the bay leaves, italian seasoning, and crushed tomatoes. Stir well, and bring to a simmer.
Once the tomatoes are simmer, add the water, broth, and white beans. Bring to a simmer again. Cover, and cook for 10 minutes.
Uncover, and add zucchini, green beans, and kale. Cover again and simmer for 10 more minutes. When veggies are tender and everything is cooked through, remove from heat and pluck out the bay leaves.
Season with salt and pepper to taste, and enjoy!
Other veggies that are delicious in this soup include spinach, chopped potatoes (like yukon gold), collard greens, peas, or cabbage (like napa or savoy).
If you have parmesan rinds, add those to the pot as the soup simmers. Just remove before serving!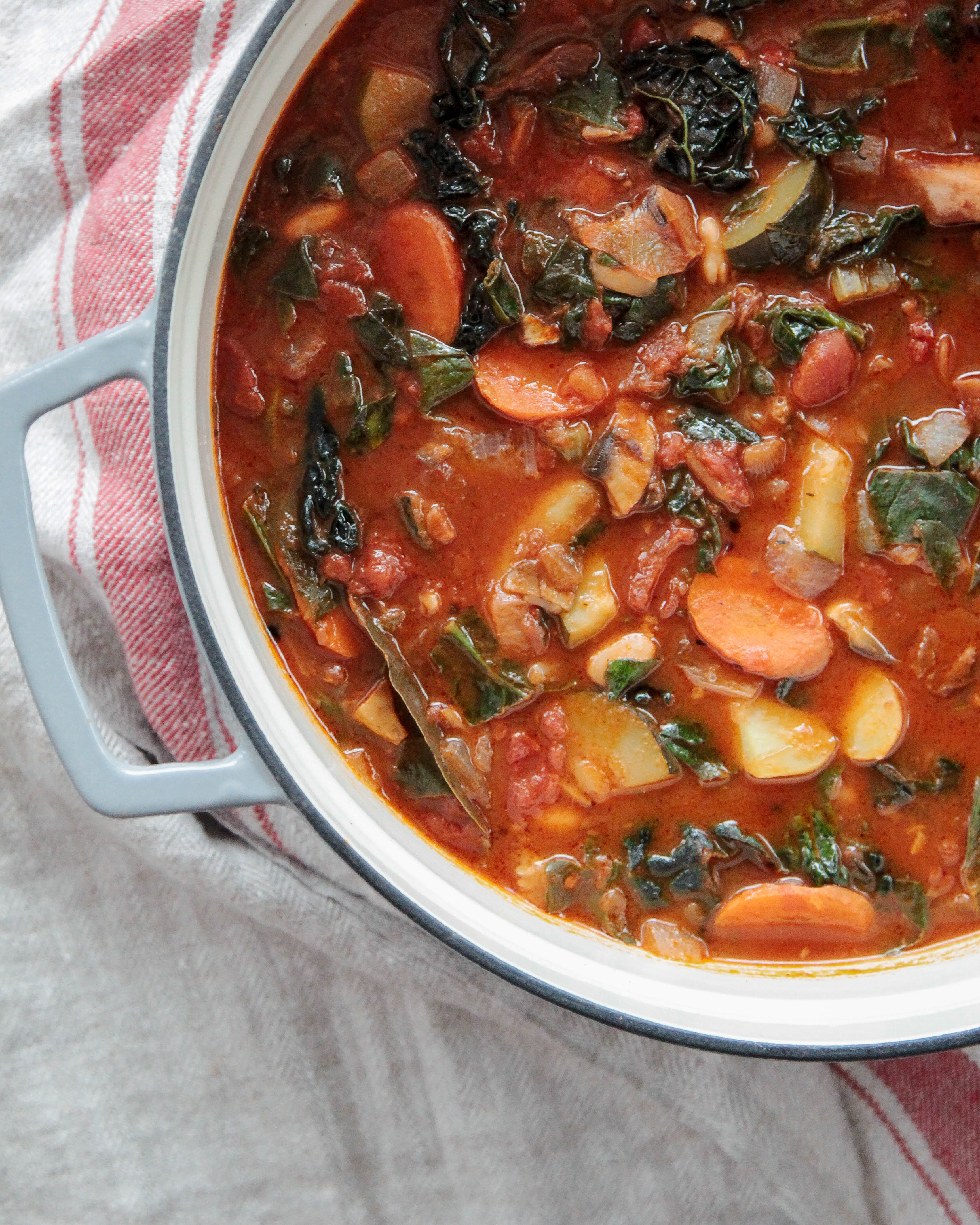 ---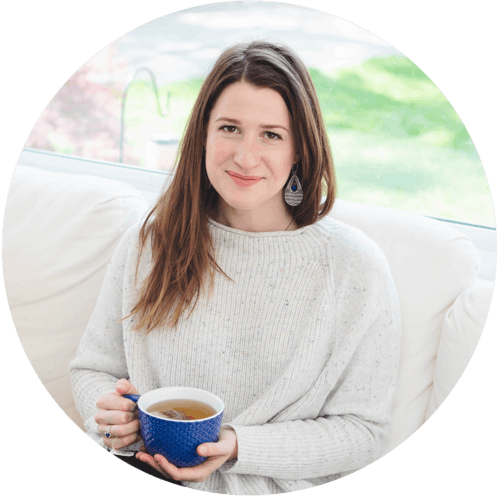 Hi! If we haven't met yet, I'm Marielle, aka The Detroit Health Coach. I'm here to help women just like you live happier and healthier lives. I specialize in weight management, inflammation reduction, and emotional eating. Want to work together? Click here.
I'm powered by tea and passion, and I'm on a ten thousand woman mission to change the world. Let's be friends!