Friends, meet my favorite soup of 2019.
Harira is a Moroccan soup that is most commonly eaten to break fast during the month of Ramadan, but it is enjoyed year round too!
It's delicious and deeply nourishing.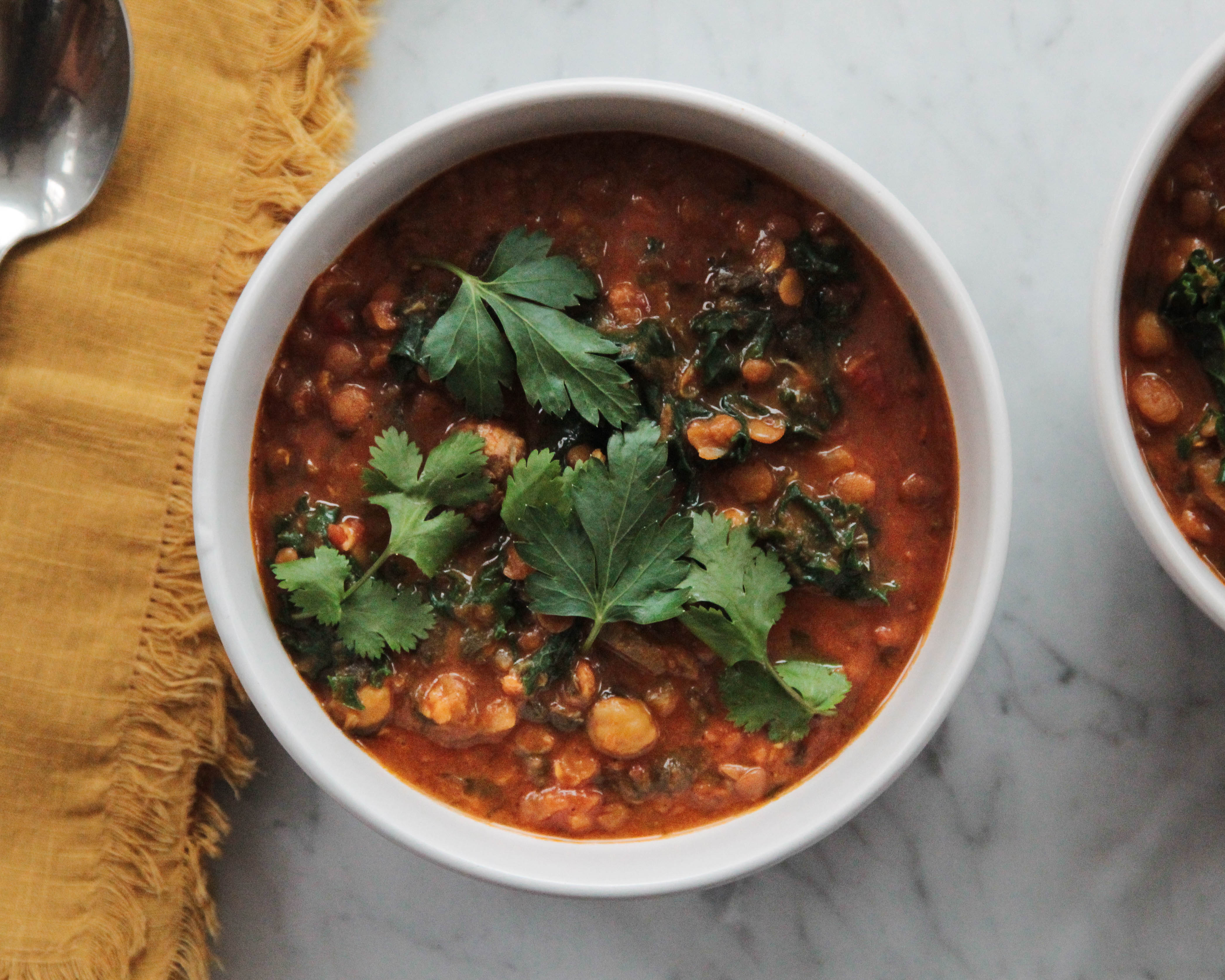 In researching Harira, I found that there seem to be as many takes on the soup as there are people who make it.
Many hariras are vegetarian. Some use chicken, some beef, while others use lamb. Some harira recipes call for broken pieces of vermicelli or other small noodles, while others are noodle free. Some use a lemon-egg mixture to give the soup a velvety texture, and some skip that step.
I have added my own little twist on things with this harira. I use canned chickpeas because life is short and I don't have a pressure cooker. Kale makes an appearance in this recipe, as well as lamb, although the meat is entirely optional.
I do use the lemon-egg mixture and I have to tell you, it takes this soup to the next level. Also, as written this is a thicker soup, but you can always thin it out with a little more liquid.
Read the recipe notes on this one–there are a lot of ways you can tweak this.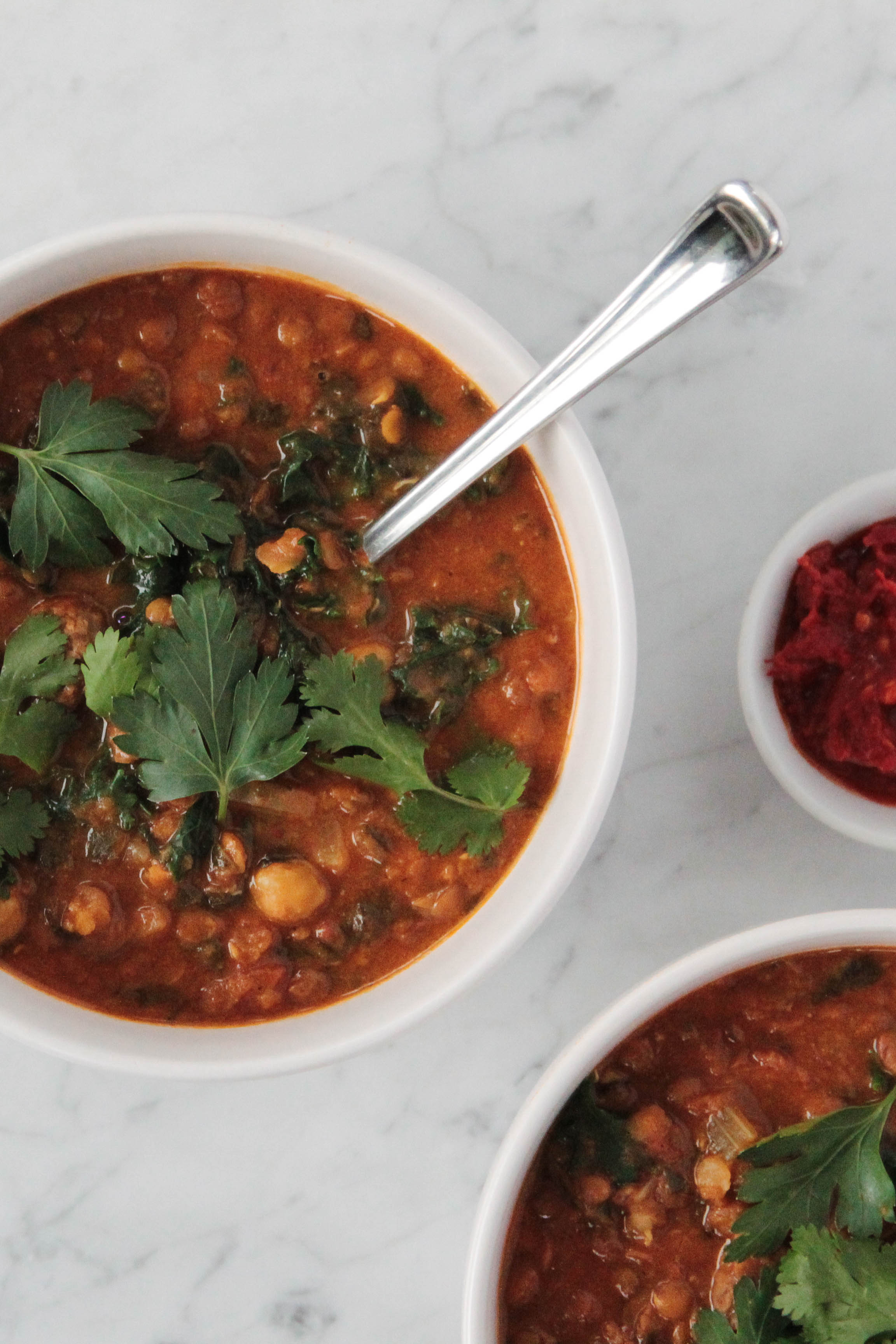 harira: moroccan chickpea & lentil soup
1 tbsp avocado oil
1/2-1 lb. lamb stew meat chopped into bite sized pieces, optional
1 yellow onion, finely sliced
4 stalks celery, finely chopped
2 carrots, finely sliced
1 whole bunch flat leaf parsley, chopped
1 whole bunch cilantro, chopped
1 tsp turmeric
2 tsp cumin
1 tsp harissa paste (see notes)
1x 28 oz can/jar/container chopped tomatoes
1 can chickpeas, rinsed and drained
1 cup brown or green lentils
6 cups broth
1 bunch kale, stems removed, chopped
1 tbsp fresh lemon juice
2 eggs
sea salt & pepper, to taste
Heat oil in a large dutch oven over medium-high heat. If you are using lamb, you will begin by browning that first. If you are not using lamb, skip to step 3.
Brown the lamb by cooking at a high heat for a short amount of time--2-4 minutes, tops. You're looking to brown the outside of the meat to start building layers of flavor. Once you've browned the lamb, scoop out and into a bowl. Set aside.
Turn heat down to medium. Add the onions, celery, and carrot into the bottom of the pot. Sauté for 5ish minutes. If there are lots of browned bits on the bottom of the dutch oven, you might need to deglaze it. Do so by adding a splash of white wine, and using the back of a wooden spoon, scrape all the browned bits off the bottom of the pan. Once all the wine is evaporated, add half of the parlsey and cilantra, and then the turmeric, cumin, and harissa paste. Saute until fragrant, and the herbs are wilted, about 3 minutes.
Add the tomatoes, and bring to a simmer, allowing the tomatoes to lightly caramelize, about 5 minutes.
Add the broth, chickpeas, lentils, and lamb. Cover and simmer for 25 minutes. Check regularly to make sure there is enough liquid in the pot so things don't burn.
After simmering, uncover and give everything a good stir. Continue to simmer, uncovered, for another 20 minutes or until the lentils are tender. Add water as needed to achieve desired consistency, and start adjusting salt and pepper to taste.
Add the kale, and continue to cook for 10 more minutes or until the kale is cooked to your liking. Remove from heat.
Whisk together the egg and lemon juice. Slowly stir into the soup to create a silky, creamy texture. Stir in remaining parsley and cilantro. Adjust sea salt and pepper to taste.
Enjoy!
I get my harissa paste at Trader Joe's and it is great! If you like things spicier you can always add more harissa to individual bowls.
The lamb is optional. Harira is just as often made as a vegetarian soup, so you can always leave the lamb out! If you do choose to leave the lamb out, add another can of chickpeas.
Regarding the lemon-egg mix: don't skip it. It really really changes the texture of the soup, and it's delicious.
If you're not into kale, add in chopped collard greens or even spinach. The spinach will only need to cook for 2-3 minutes though.
If you dislike cilantro, simply omit it.
If desired, you can add in 1/4 c. long grain white rice, like basmati.
Other veggies that work in this: peas, green beans, zucchini, summer squash, cabbage.
Don't use red lentils. They will collapse and become mush.
Short on money: skip the meat.
Short on time: slow cooker/instant pot it.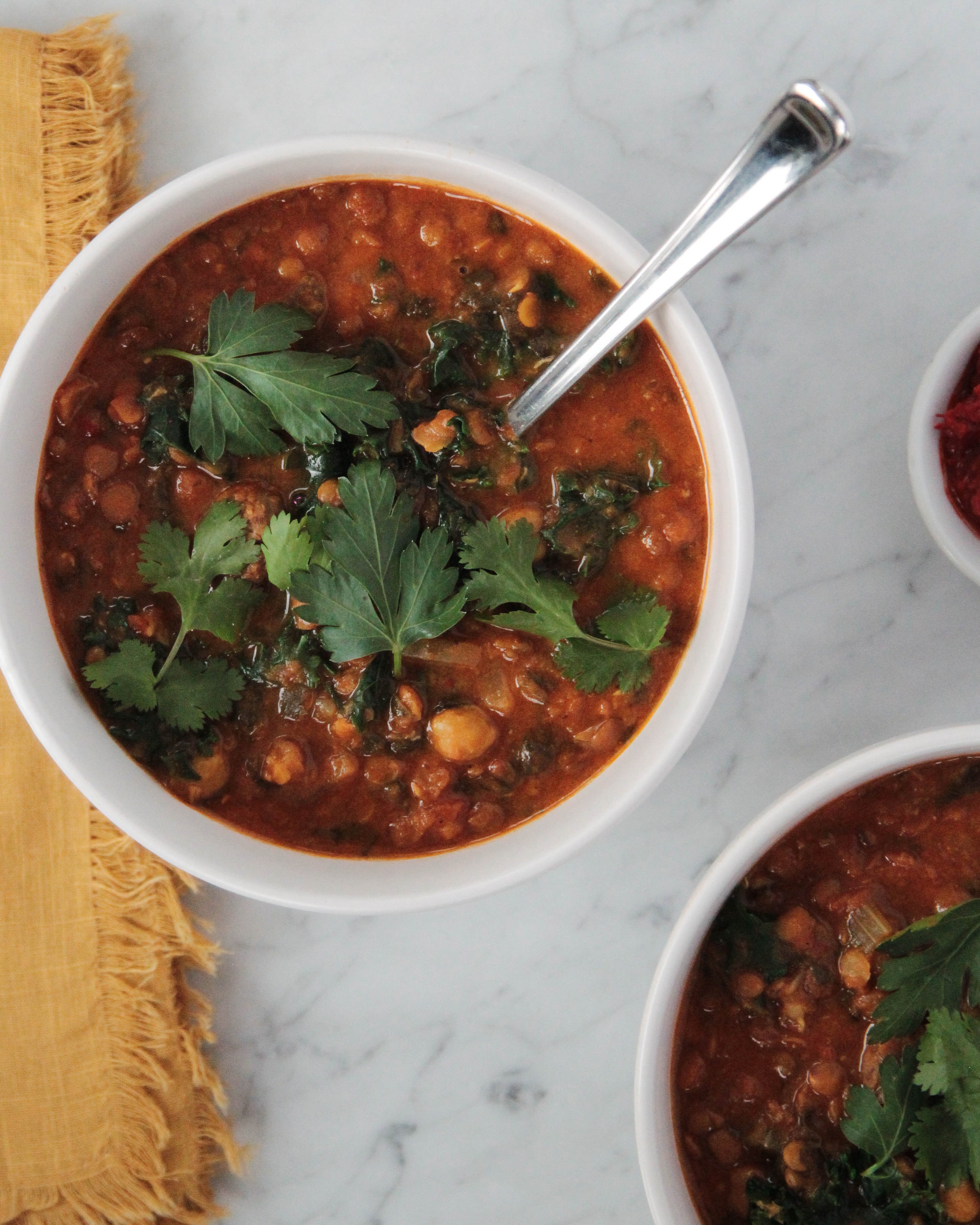 ---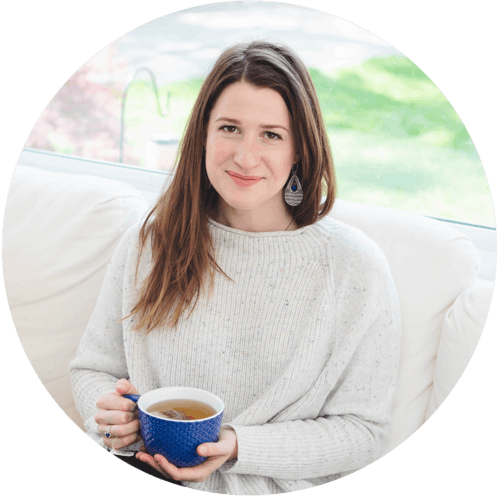 Hi! If we haven't met yet, I'm Marielle, aka The Detroit Health Coach. I'm here to help women just like you live happier and healthier lives. I specialize in weight management, inflammation reduction, and emotional eating.
I'm powered by tea and passion, and I'm on a ten thousand woman mission to change the world. Let's be friends!