What if I told you that you could make dinner in 30 minutes and it would be
delicious
filled with veggies
anti-inflammatory
a crowd pleaser
also really pretty
You'd be into it, right?
Well, friend, today is your lucky day because that's exactly what is happening right meow.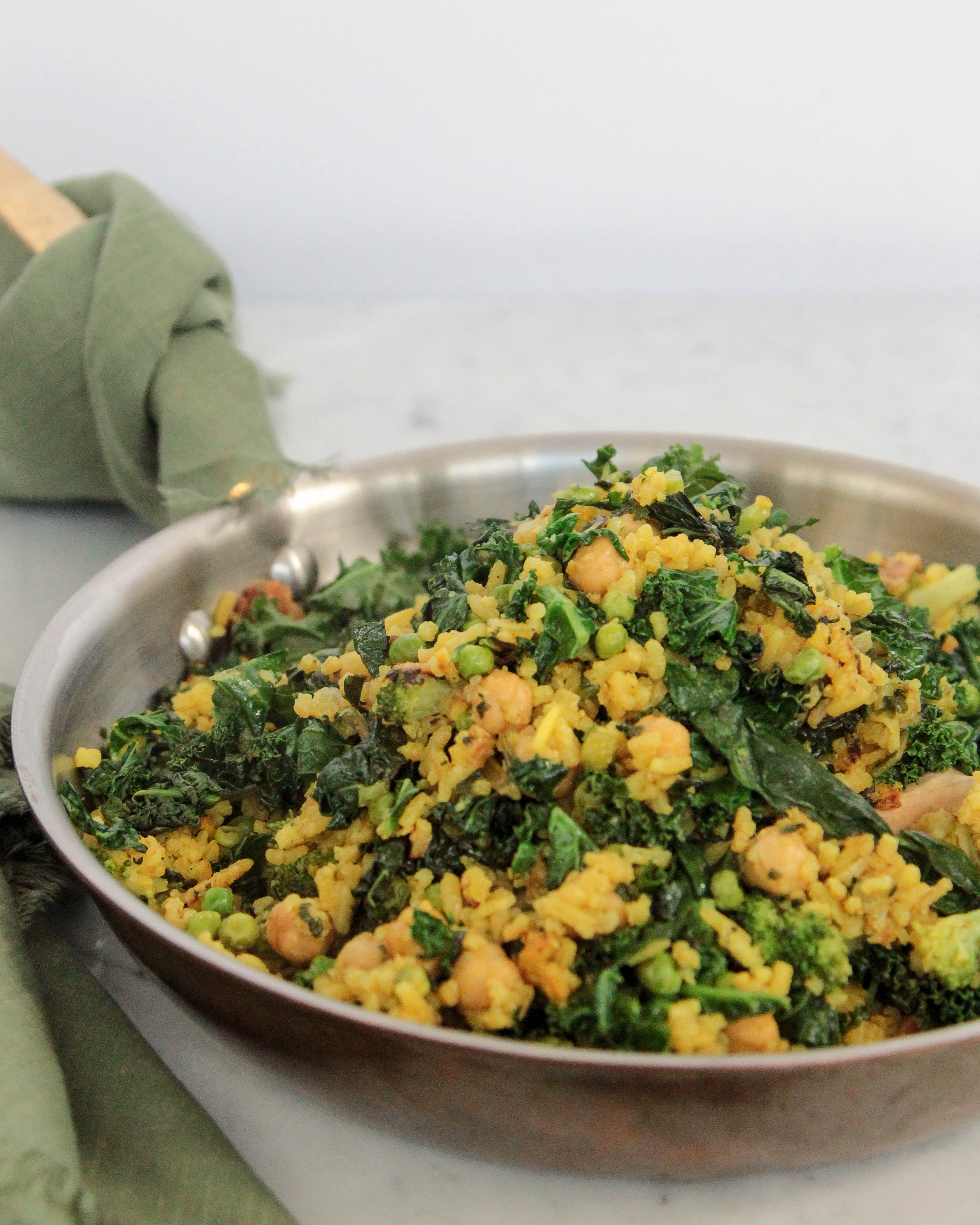 Meet Saffron Rice with Veggies.
This recipe is built with ease in mind. And I have a feeling you're going to love it so much, it will become a staple in your house.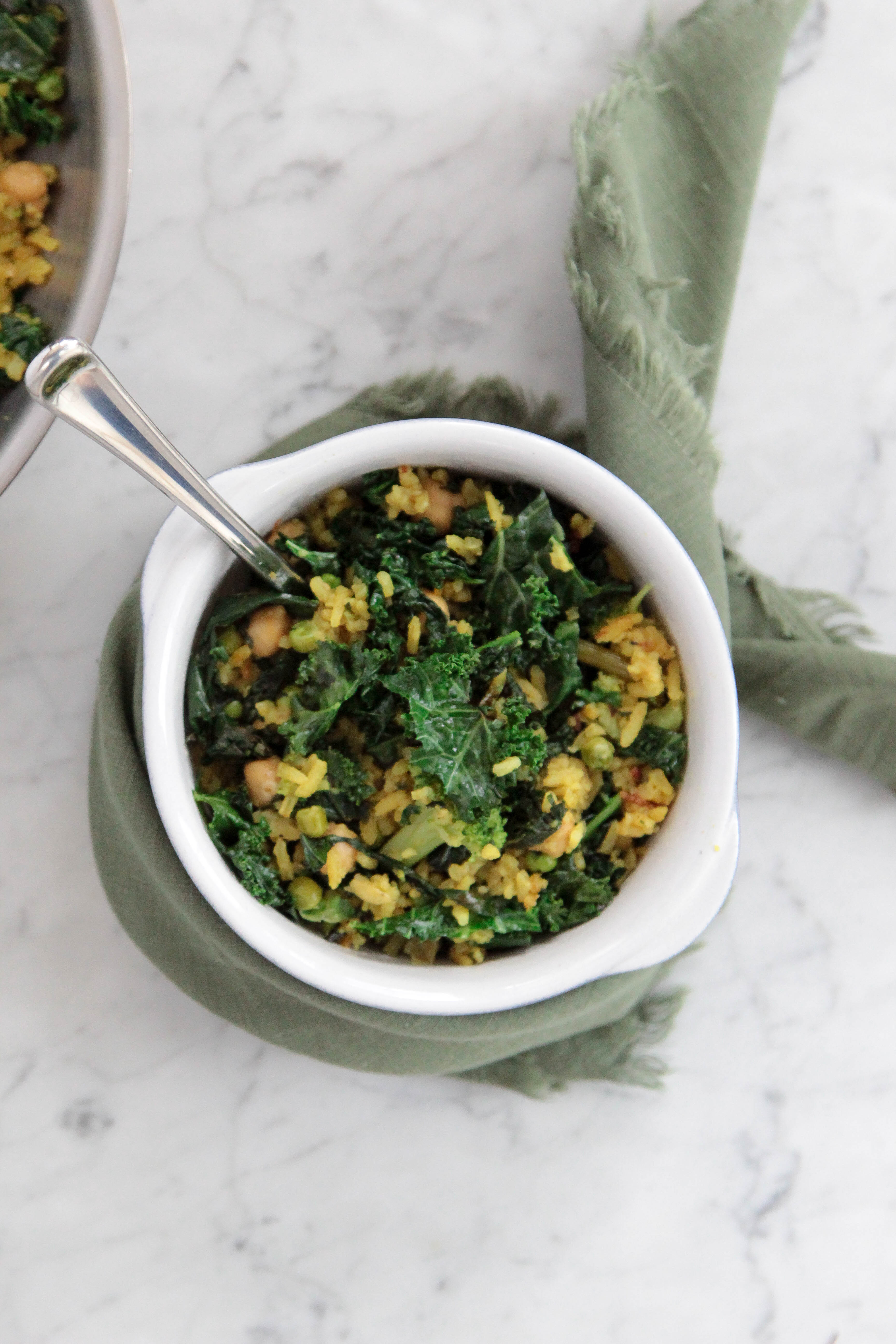 saffron rice with veggies
1 tbsp avocado or olive oil

1 large clove garlic, minced

1/2 tsp turmeric

1/4 tsp saffron threads, crushed

1/2 tsp Trader Joe's Umami Blend OR use

1/2 tsp thyme

1/2 tsp sea salt

1 cup white rice

splash of white wine or dry vermouth to deglaze the pan

1 cup broth (preferably homemade and unsalted) +

1 cup water

1 can chickpeas, drained and rinsed

4 cups broccoli florets, fresh or frozen

1 cup frozen peas

4-6 cups chopped kale, fresh or frozen

salt and pepper, to taste
Add olive oil to a medium sized, heavy lidded pot over medium heat. When the oil is hot, add the garlic and sauté until fragrant and lightly golden. Add the rice and spices, and continue to sauté until lightly toasted, 1-2 minutes. Sprinkle with some sea salt and pepper.
Add the wine to deglaze, and scrape up any browned bits from the bottom of the pan with the back of a wooden spoon. Add the bay leaf. Stir well, and let the wine reduce until mostly absorbed, just a minute or so. Add the broth and water, bring to a light boil. Reduce heat to simmer. Cover and cook for 5 minutes.

Make sure your chickpeas, kale, peas, and broccoli florets are ready to go, because you'll need to work quickly. Remove the lid from the rice pot and pour the chickpeas over the rice. Layer on the broccoli, then the peas, and then the kale. Do not stir! Put the lid back on, and simmer for an additional 10 minutes. Do not remove the lid at any point.

Remove from heat and set on a back burner for 5 minutes. Do not remove the lid! You have to resist the temptation to peek.

After 5 minutes of rest, take the lid off and stir everything together. Season with salt and pepper, to taste.
Enjoy!
Saffron can be a bit expensive, and understandably isn't something everyone has on hand. It has a unique taste, and one that is without substitution. If your kitchen is saffron-less, you can make turmeric rice instead by omitting the saffron completely.

This is great with a little bit of nutritional yeast or parmesan sprinkled into it.

If you want a little bacon-y flavor, start by finely chopping and cooking 2-3 strips of bacon in the bottom of your pot. When the bacon is crispy, remove from the pot. Add the garlic and sauté. Continue making the rest of the recipe, and at the end stir the bacon back in.

Also fantastic with roasted shrimp or salmon on top.

Other veggies that work: chopped asparagus, frozen green beans, collard greens, spinach, arugula. You could also use minced mushrooms–add those at the beginning with the garlic.

Can sub white beans or adzuki beans for chickpeas.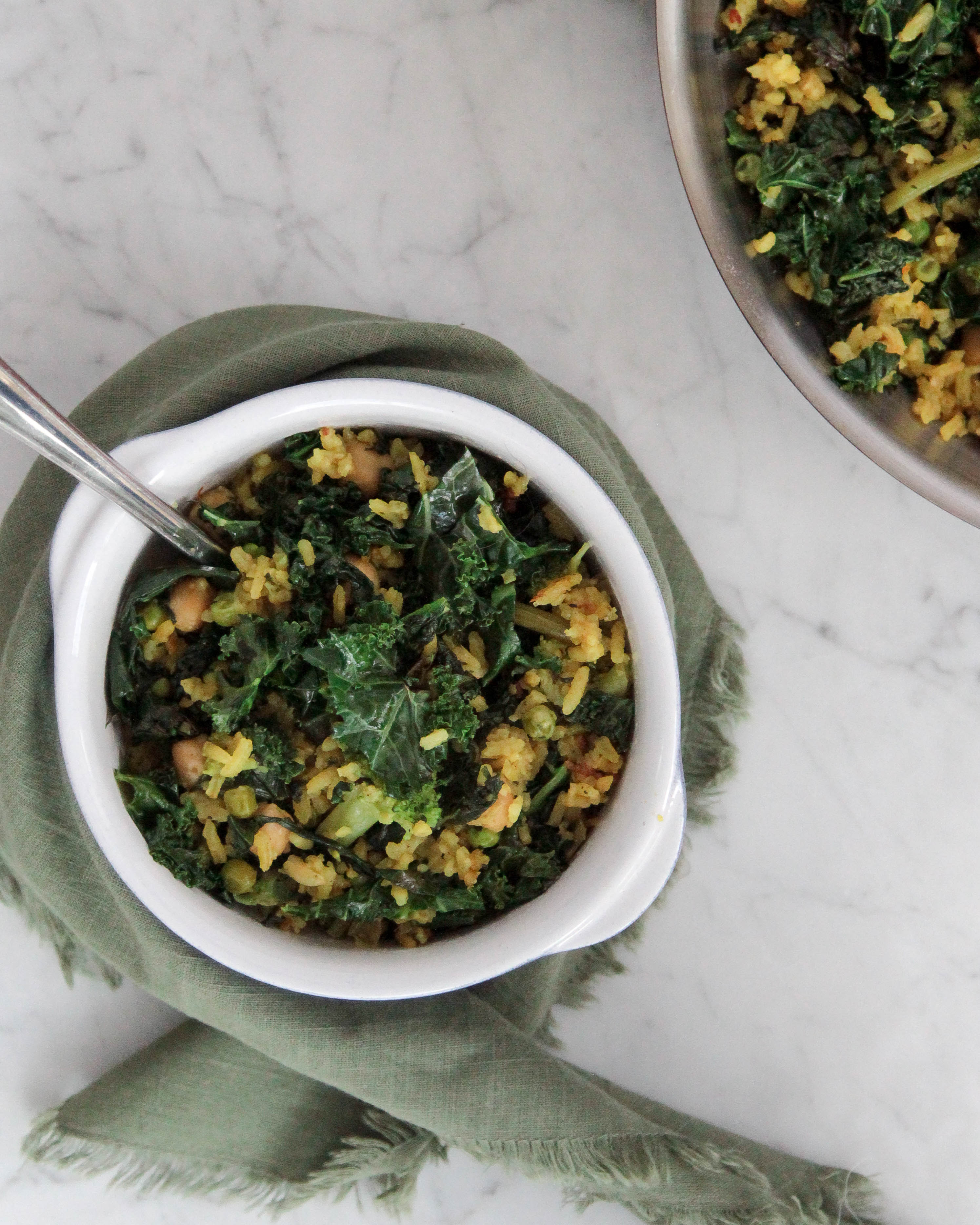 ---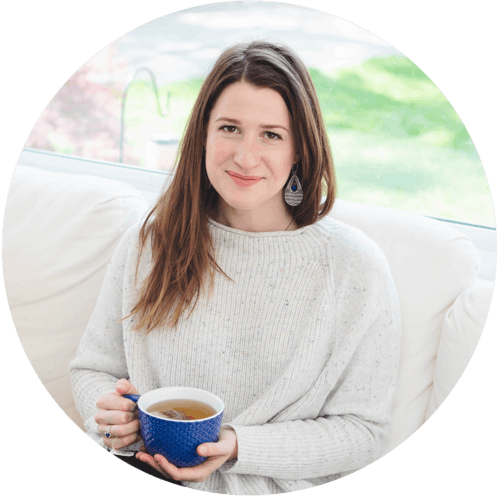 Hi! If we haven't met yet, I'm Marielle, aka The Detroit Health Coach. I'm here to help women just like you live happier and healthier lives. I specialize in weight management, inflammation reduction, and emotional eating.
I'm powered by tea and passion, and I'm on a ten thousand woman mission to change the world. Let's be friends!