You guys I love lettuce wraps. And it breaks my heart that when I go out to eat they are almost never gluten free.
And even if they are gluten free, frequently they are SO SALTY that I can't even really enjoy them.
So, this is my version. Gluten free, not-too-salty, and definitely my new favorite lunch, dinner, and okay I admit it, sometimes breakfast. It's completely delicious, family friendly, and (shockingly) filled with some sneaky veggies.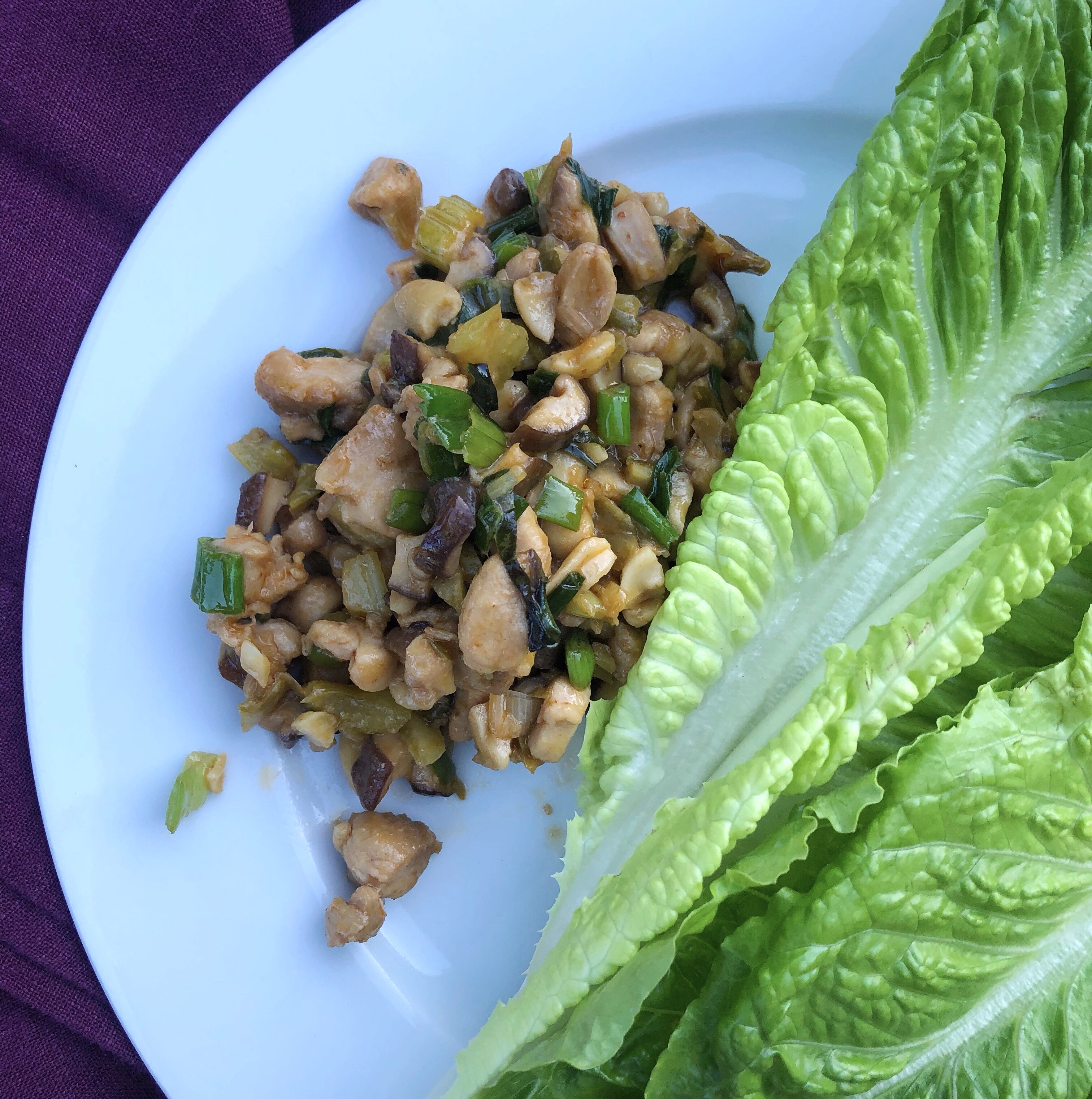 1 tsp avocado oil
1 bunch green onions, white and green parts sliced
4 stalks celery, finely sliced
8-12 oz mushrooms, finely chopped--I like a mix of crimini and shiitake mushrooms
1 lb chicken thighs, finely chopped, OR 1 lb ground chicken
2 cloves garlic, minced
2 cups additional veggies, like petit frozen peas, finely chopped red bell pepper, minced napa cabbage or shredded carrots
1/3 c. coconut aminos
2 tsp powdered ginger
1 tsp-1 tbsp sriracha sauce
2 tsp toasted sesame oil
handful of chopped basil
1/3 c. chopped cashews
romaine or butter lettuce
Heat oil in a large skillet over medium-high heat. While pan and oil are heating, prep the veggies and meat. When slicing the green onions, separate the white parts from the green parts.
When the oil is hot, add the white parts of the green onions, celery, mushrooms, chicken, garlic, and shredded carrots, if using. Give it a good stir, and then let it cook for 3-5 minutes.
The veggies (especially the mushrooms!) will start to release water. As soon as this happens, give everything another good stir, and add the remaining veggies, coconut aminos, powdered ginger, toasted sesame oil, and sriracha. The mixture will be fairly wet. Continue to cook over medium-high/high heat, until the liquid has reduced and is syrupy, and all the veggies and meat are cooked through. Total cooking time is typically 12-15 minutes.
Stir in the basil, cashews, and the green parts of the green onions. Allow to cool slightly, and adjust seasoning to taste.
Scoop into lettuce boats, and enjoy.
This makes wonderful leftovers and is delicious eaten cold for up to 5 days.
This is great served with a simple "fried rice" which really isn't fried at all. For 4 servings, cook 1 cup of rice in water or broth. Add a cup or so of a frozen pea & carrot combo, some minced spinach, a tablespoon of coconut aminos, and a tablespoon of toasted sesame oil. It's a super simple crowd pleaser!
I prefer making this with chopped chicken thighs rather than ground chicken. I find the overall texture is more enjoyable. Chopping chicken thighs into tiny pieces (no bigger than 1/2 inch) can be a pain, but I think it's worth it for the end product. Making it with ground chicken is still good though! You can also chop your chicken in a food processor. This is especially helpful if your food processor is dishwasher safe so you can just pop it in after dinner!
Overall veggie content should be pretty high. When I make this I typically use 12 ounces mushrooms, 4 stalks celery, 1 red bell pepper, and 1 cup petit peas. If Mike is traveling I'll also add shredded carrot (because he despises carrots).
It's important that all the veggies and meat are finely chopped or sliced. Nothing should be bigger than 1/2 inch.
If you can, splurge on some fancy mushrooms for all 8-12 ounces. I love shiitake, maitake, and enoki. If the budget just won't let you do that, crimini mushrooms are fabulous.
---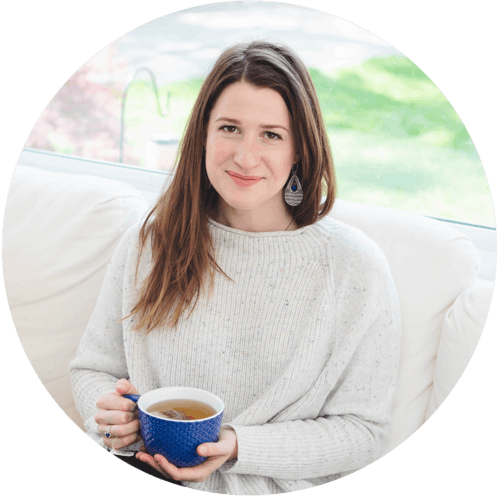 Hi! If we haven't met yet, I'm Marielle, aka The Detroit Health Coach. I'm here to help women live happier and healthier lives. I specialize in weight management, inflammation reduction, and emotional eating.
Get more recipes & resources by checking out the 14-Day Inflammation Reset and Recreate Your Weight, both open for enrollment now!