This is, without a doubt, my most beloved soup. Inspired by a Mulligatawny soup I had a health food cafe back in high school, this soup has had many lives since I began making and sharing it 6 years ago.
A few things stay constant: the heavy hit of curry, the mirepoix with apple, the sweet potatoes, and some leafy green. My favorite is kale. If you have green cabbage laying around, feel free to throw in a few cups of chopped cabbage when you add the broth.
Don't worry about the long ingredient list—it's far less intimidating than it looks.
Oh! And be sure to peel the apple.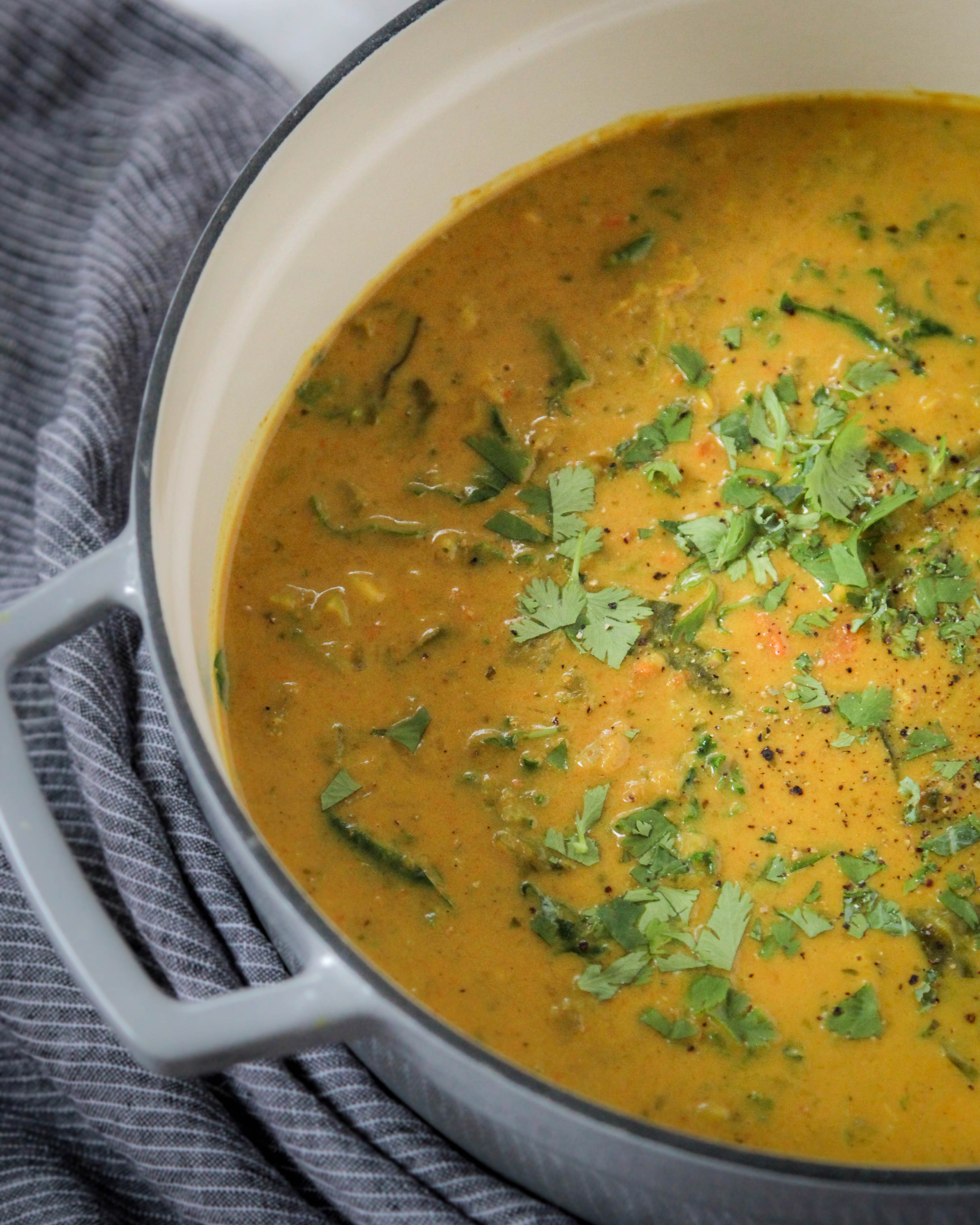 1 tbsp olive or avocado oil
1 large yellow onion, chopped (about 1 cup)
3 carrots, peeled and chopped (about 3/4 cup)
4 stalks celery, quartered lengthwise and chopped (about 1 cup)
1 tart apple, like granny smith, peeled and chopped
2 cloves garlic, minced
1 bay leaf
1 tbsp mild curry powder (I use garam masala)
1 tbsp ground turmeric
1/2 tbsp ground cumin
1 tsp ground coriander
1 tsp dried ginger
1 tsp apple cider vinegar + 1 cup water
2 large sweet potatoes, cubed
1 can chickpeas, drained and well rinsed
3 cups broth
1 can coconut milk
1 bunch kale, stems removed, leaves chopped
1 big handful chopped cilantro
sea salt + pepper, to taste
Heat oil a large soup pot or dutch oven over medium heat. When the oil is hot, add onion, carrot, celery, apple, garlic,

and a sprinkle of salt. Sauté for 5 minutes, or until the onions start to turn translucent and the apple begins to break down.

Add the curry powder, turmeric, cumin, coriander, and ginger. Stir to mix well, and sauté for 3-5 minutes, or until everything is quite fragrant. Stir often, scraping the bottom of the pot with a wooden spoon to prevent burning.

In a liquid measuring cup, combine the apple cider vinegar and water.

Add the water and apple cider vinegar to the pot, and scrape up any browned bits from the bottom of the pot. Add the bay leaf, sweet potatoes, chickpeas, and broth. Bring to a simmer, and cook, covered, for 20 minutes or until everything is tender. Stir occasionally. While the soup is simmering, chop your kale and cilantro.

Once all the veggies are tender, turn the heat off and add the coconut milk. Puree half the soup using an immersion blender or regular blender. Adjust salt and pepper to taste. If the soup is too thin for your liking, simmer, uncovered, until you reach your desired consistency. If it is too thick, add a splash more broth.

Add the kale and bring to a very light simmer for 5 minutes. Remove from heat, and stir in cilantro. Adjust seasonings one last time, and enjoy.
---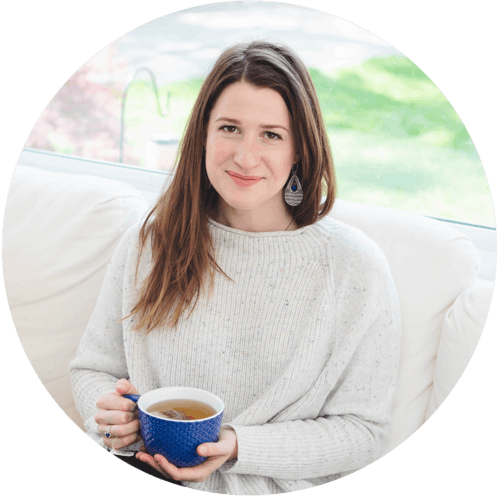 Hi! If we haven't met yet, I'm Marielle, aka The Detroit Health Coach. I'm here to help women live happier and healthier lives. I specialize in weight management, inflammation reduction, and emotional eating.
Get more recipes & resources by checking out the 14-Day Inflammation Reset and Recreate Your Weight, both open for enrollment now!