This is a spicier, Asian-inspired take on the classic chicken noodle soup. It's loaded with garlic, ginger, and turmeric, with dulse flakes added to enhance flavor and provide an iodine boost.
It's wellness in a bowl, and the perfect soup to keep your sniffles at bay.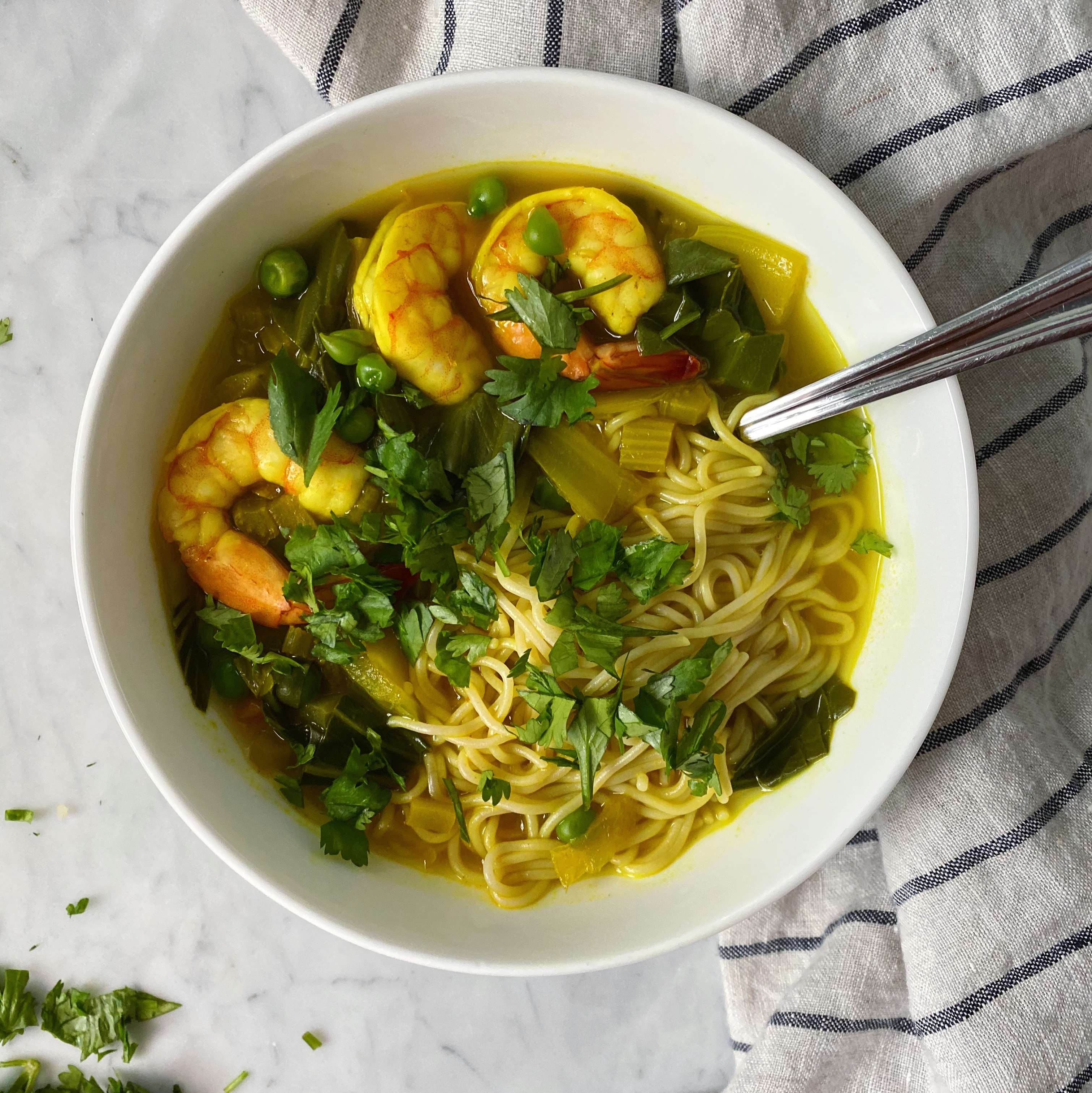 2 tbsp avocado or olive oil

1 small onion, finely chopped (about 1/2 cup)

2 stalks celery, quartered lengthwise and chopped

(about 1/2 cup)

4 cloves garlic, minced

1 large carrot, sliced into thin disks

1" ginger, peeled and grated

1 tbsp turmeric

1/2-1 tsp red pepper flakes

1 tsp five spice powder

2 tsp dulse flakes (optional)

1 tbsp coconut aminos

1 bay leaf

8 cups broth

2 chicken breasts (about 1 lb) OR 3/4 lb raw, deveined shrimp

4 cups finely chopped cabbage

1 cup frozen peas

1/2 c. chopped cilantro

rice vermicelli noodles or rice ramen, cooked according to package instructions and drained
Heat oil a large soup pot or dutch oven over medium heat. When the oil is hot, add onion, celery, carrot, garlic, and ginger. Sauté for 10 minutes, or until the onion and celery is mostly translucent. Add a splash of water if needed to keep things moving and prevent burning.

Add the turmeric, red pepper flakes, five spice powder, kelp granules, and coconut aminos. Sauté for another 2 minutes.

Add the bay leaf, broth, whole chicken breasts (if using), and cabbage. Bring to a simmer, cover, and cook for 15-20 minutes or until the chicken breasts are cooked through.

While the chicken is simmering, cook the rice vermicelli according to package instructions. when cooked, drain and set aside.

When the chicken breasts are cooked through, remove to a cutting board. Add the peas to the soup, and simmer for another 3 minutes. If you are using shrimp, add to the soup at the same time as the peas. Remove from heat.

Chop the chicken into bite sized pieces and return to the soup. Add the cilantro, give everything a stir, and adjust salt to taste.

Place a handful of noodles into each bowl, and ladle hot soup over the noodles. Enjoy!
You can always skip animal products entirely and add mushrooms to this as well.
---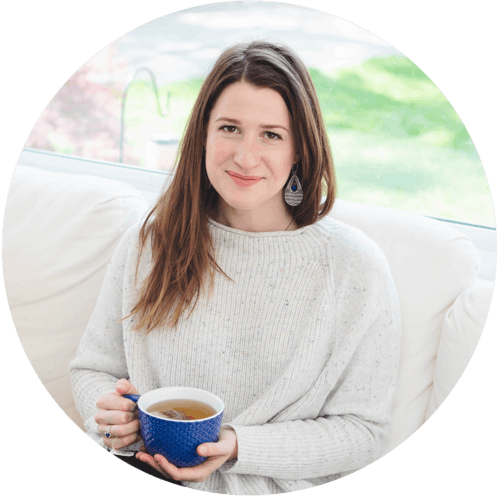 Hi! If we haven't met yet, I'm Marielle, aka The Detroit Health Coach. I'm here to help women live happier and healthier lives. I specialize in weight management, inflammation reduction, and emotional eating.
Get more recipes & resources by checking out the 14-Day Inflammation Reset and Recreate Your Weight, both open for enrollment now!