This stew is a complete meal packed with slow digesting carbs to keep you satisfied for hours.
It's easily adaptable, freezes well, and is definitely taco inspired!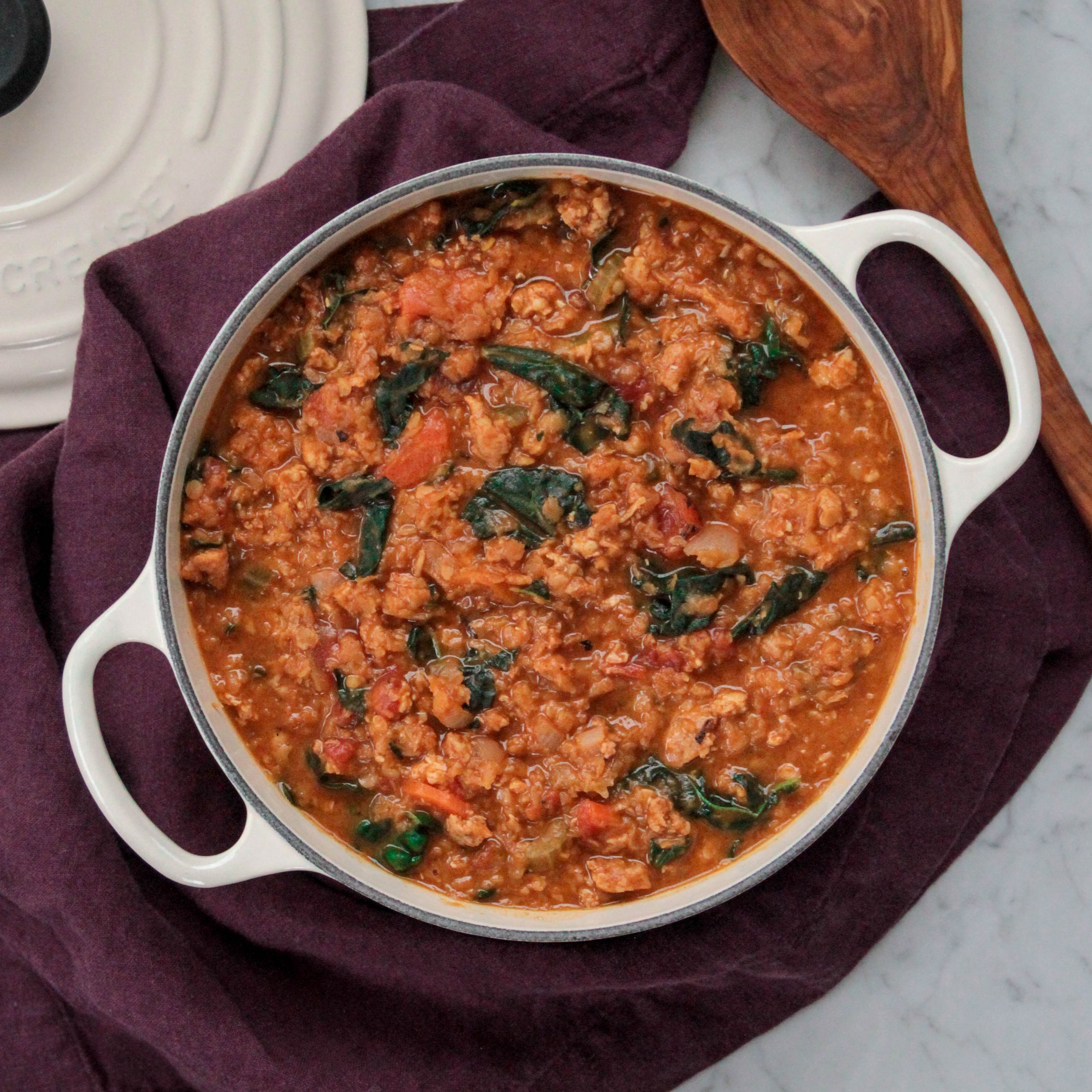 savory sausage & red lentil stew
1 tbsp avocado oil
1 lb chorizo-style chicken sausage (see notes for alternative)
1 medium onion, chopped
2 stalks celery, chopped
2 carrots, chopped
2 cloves garlic, minced
1 bay leaf
1 1/2 tsp ground cumin
1 1/2 tsp chili powder
1 tsp ground coriander
1/2 tsp chipotle powder
1 14.5 oz can fire roasted tomatoes
2 cups red lentils
4 cups broth
3 cups water
1 bunch kale, stems removed, leaves chopped
Heat oil in large dutch oven or soup pot over medium-high. Remove sausage from casing. Brown sausage for 6-8 minutes, using the edge of a wooden spoon to break up into small pieces. Remove sausage and set aside.
Use a splash of white wine, water, or broth to deglaze the pan, thoroughly scraping up all the browned bits from the bottom.
Add the onion, celery, and carrot. Sauté for 5 minutes. Add the garlic and spices. Sauté for another 2 minutes.
Add the tomatoes, broth, water, lentils, and bay leaf. Bring to a boil. reduce heat to simmer, cover, and cook for 25 minutes, or until the red lentils have collapsed and become creamy. Add the kale halfway through simmering, and check liquid level. Add more water or broth if you need to.
Add the sausage back in. Adjust salt and pepper, to taste.
I like to serve this with a dollop of greek yogurt or cashew cream, but that's totally optional.
This freezes very well. I like to freeze into individual 12 oz servings.
If you can't find chorizo style chicken sausage, that's okay.

Mix 1 lb of ground chicken with

1 tsp chipotle powder
2 tsp smoked paprika
2 tsp chili powder
1 tsp sea salt
1 large clove garlic, finely grated.
Use in recipe as you would the chicken sausage.

You can omit the sausage completely to make this recipe vegan. Add a bit more of the spices and salt to enhance the flavor.

Consider adding other veggies like sweet potato, zucchini, or bell peppers.
This makes a big batch, and it freezes well.
To keep cost & waste down, I typically buy spices & dry goods like red lentils in bulk.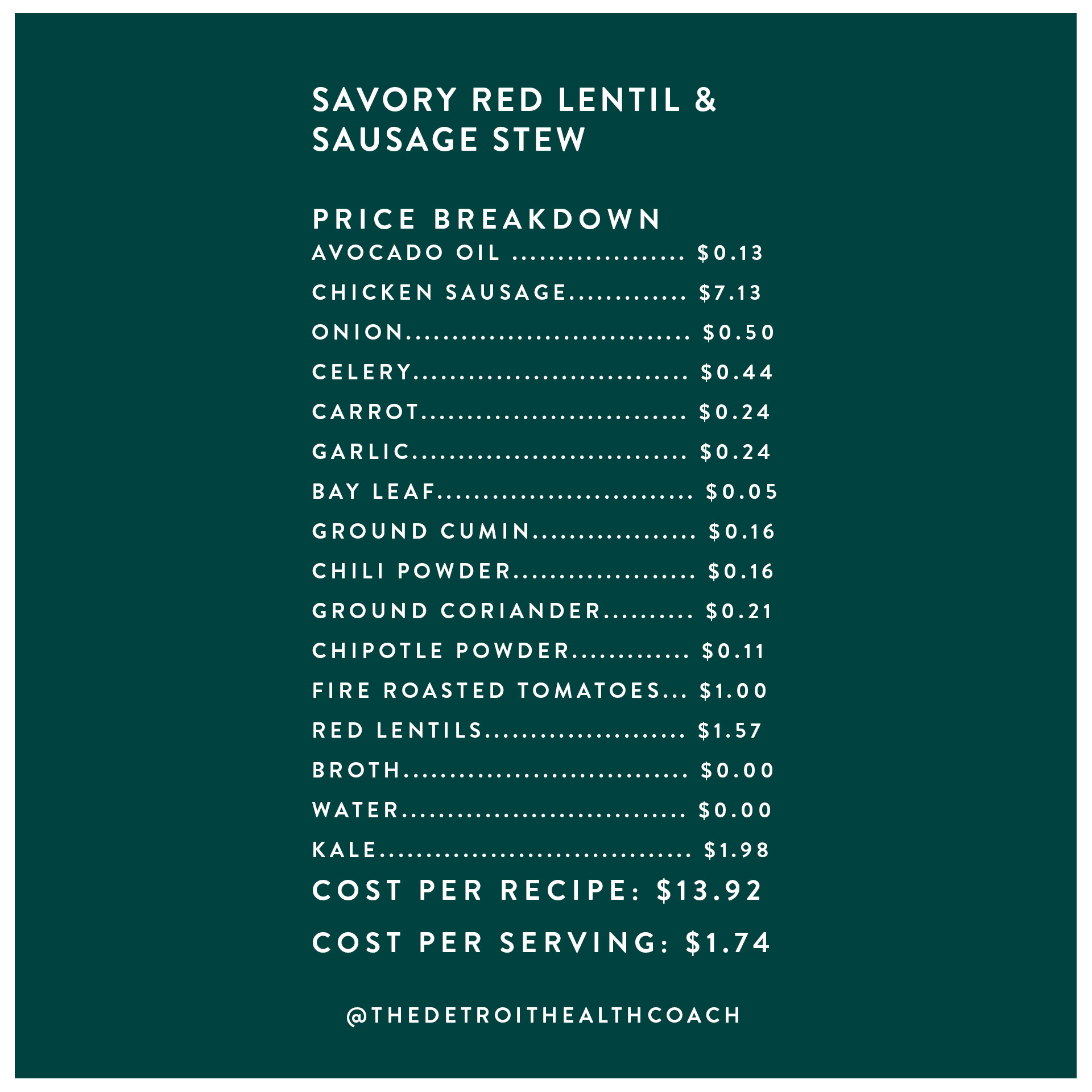 ---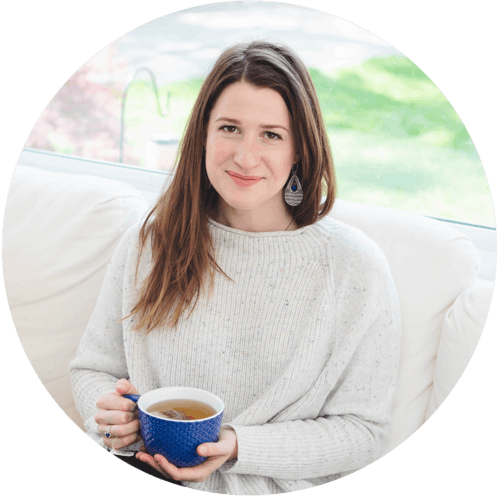 Hi! If we haven't met yet, I'm Marielle, aka The Detroit Health Coach. I'm here to help women live happier and healthier lives. I specialize in weight management, inflammation reduction, and emotional eating.
Get more recipes & resources by checking out the 14-Day Inflammation Reset and Recreate Your Weight, both open for enrollment now!